New Home Sales Rise 24% in June, Still Second Lowest on Record
Even an impressive 23.6% increase in home sales for June couldn't get the housing market far from its record low. The 330,000 annualized pace last month is still the second worst on record -- only better than May's truly dismal rate of 267,000 sales, according to the Census Bureau. While June was certainly a better month for new sales than May, the rate is still extremely low. It was 16.7% below June 2009's level.
Here's the chart to give you some historical context: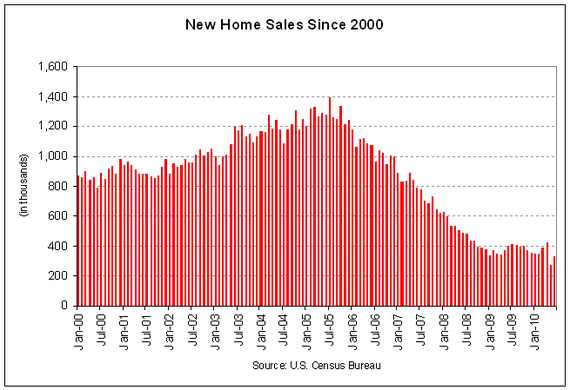 Both April and June were revised significantly downward, which makes for particularly bad news. April went from 446,000 to 422,000 new homes sold. May's number was reduced from 300,000 to 267,000. Without the help of the home buyers credit, sales plummeted by 36.7% in May. So it's easy to see how a 23.6% increase in June didn't manage to get sales near the April level.
The average sales price declined pretty significantly last month. It dropped from $269,400 in May to $242,900 in June. The median fell less substantially, from $216,400 to $213,400.
June definitely saw something of a rebound for new sales in the post-home buyer credit world. But the level where it may settle is quite low. Yet fewer new home sales may ultimately be good news for housing market health, as this implies buyers will reduce the large existing inventory instead. Of course, predictions of fewer new home sales going forward definitely aren't what builders or jobless construction workers want to hear.