National Home Prices Up 8.8% From a Year Ago
The home buyer credit did its work last quarter. During the three months ending in June, home prices rose by 5.2% compared to the first quarter, according to real estate valuation firm Clear Capital. Prices have jumped by 8.8% compared to the second quarter of 2009. Clear Capital's Home Data Index Market Report shows appreciation pretty much across-the-board for most metropolitan areas as well, versus a quarter and a year earlier.
The report provides this map showing the regional changes: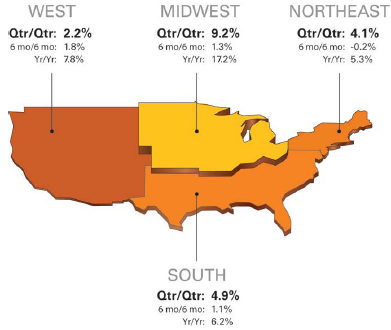 As you can see, the west's home appreciation was comparably slow, while the midwest's prices increased quite steeply. The latter region's prices rose an impressive 17.2% year-over-year. That's nearly double the 8.8% national rise.
Clear Capital also tracks metropolitan statistical areas (MSAs). Its top 10 all appreciated by more than 10% during the quarter, with the top three's prices (Memphis, TN, Cleveland, OH, and Milwaukee, WI) rising more than 20%. Cleveland's prices somehow increased by 62% compared to a year earlier. Here are the top MSAs: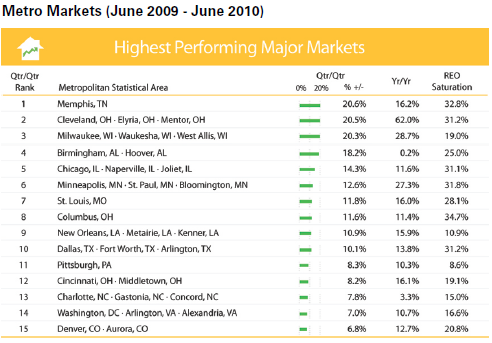 Even the worst performing areas didn't do too badly. Compared to the prior quarter, only two -- Bridgeport/Stanford/Norwalk, CT and Baltimore, MD -- had price declines, of 2.5% and 1.8%, respectively. The worst 15 are littered with MSAs in Florida, Nevada, and California, which probably comes as no surprise to anyone who watches the market. Some of these areas did experience decent year-over-year appreciation, however. Here's the list: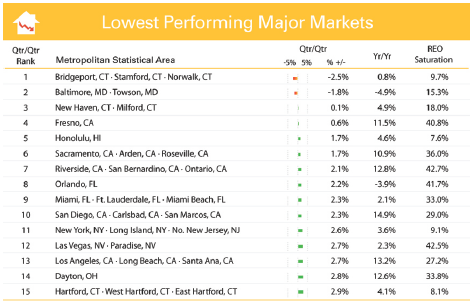 As mentioned, the home buyer credit is responsible for a large part of the impressive appreciation we're seeing through the second quarter. But without the government's influence going forward, the market could reverse course. While the regions with little foreclosure activity may stabilize, those with excess home inventories will likely see very little price growth, and maybe even a return to falling prices.