Mortgage Applications For Home Purchases Hit 1996 Level
Just how bad is the U.S. housing market? After falling off a cliff in May, due to the expiration of the home buyer credit, sales continue to decline further and further. Last week, mortgage applications for home purchases fell by 3.1%, according to the Mortgage Bankers' Association. That broke through the worst levels seen in 1997, to hit a point not seen since 1996. They're now down 69.1% compared to their 2005 peak.
Here's the chart: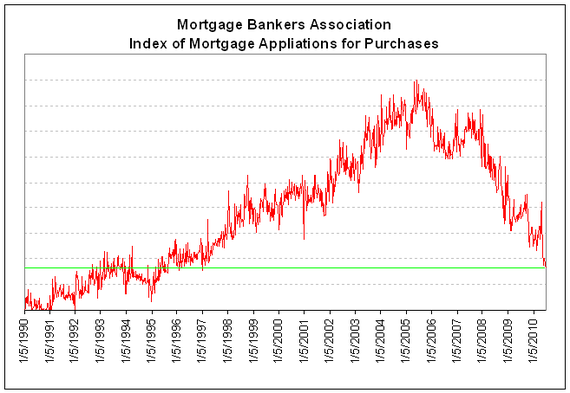 The green line represents last week's index value. If purchase applications decline much more, by another 4%, they will hit 1995 levels.
This news is particularly incredible in light of the fact that mortgage rates hit a new all-time low last week. Despite that, Americans still aren't buying houses. This shows very weak demand, more than two months after the home buyer credit expired.