Metro Area Foreclosures Remain High in First Half of 2010
Looking for a bargain on a foreclosure? Try your luck in Vegas. It had, by far, the highest concentration of foreclosures per housing unit compared to any other metro area in the first half of the year. An incredible one in every 15 homes was foreclosed according to foreclosure data specialist RealtyTrac. That's more than five times the national average of one in every 78 housing units. Let's look at the best and worst metro areas for foreclosures.
On a national level, the first half of 2010 was better than the second half of 2009, with foreclosures down 5.14%. Yet, foreclosures were up in the first half compared to the same period in 2009, by 8.26%. So the first half wasn't the worst we've seen, but it was still pretty bad. A total of 1.65 million properties were foreclosed over those six months.
As you might expect, California, Florida, Arizona, and Nevada account for most of the cities with the highest concentration of foreclosures. You have to go all the way to the 22nd-worst to find a city outside those states, which is Boise, Idaho. Here's are the 20 metro areas with the highest concentrations of foreclosure activity: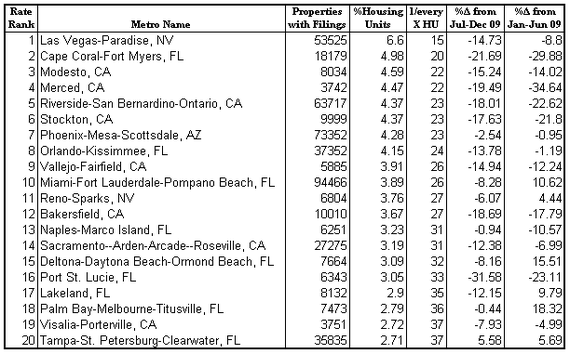 It's sort of staggering to think about how many foreclosures are occurring in Las Vegas. First, there's the awful one in 15 homes statistic. That accounts for an amazing 6.60% of all housing units in the metro area. And remember, this was just over a six-month period. The glimmer of hope is that this actually isn't the worst the city has seen. In fact, foreclosures are down 14.73% compared to the prior half, and 8.80% lower than the same period in 2009.
As for the cities with the fewest foreclosures, it's a mix, but New York and Texas appear to have fairly strong showings. Here are the 20-best (in reverse order):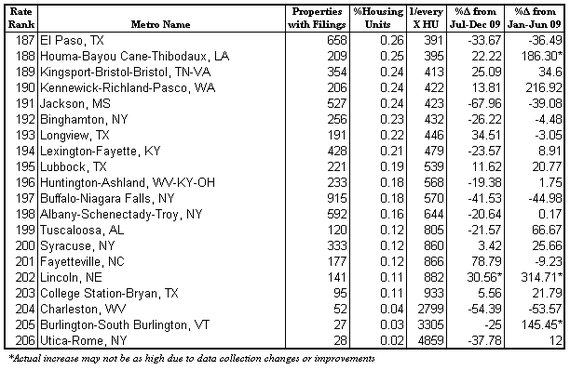 What's in store for foreclosures going forward? James Saccacio, CEO of RealtyTrac, says in the report:
"The fragile stability achieved in many local housing markets hinges on improvements in the underlying economy, specifically job growth. If unemployment remains persistently high and foreclosure prevention efforts only delay the inevitable, then we could continue to see increased foreclosure activity and a corresponding weakness in home prices in many metro areas."