Key Question: Can the US Innovate Without Manufacturing?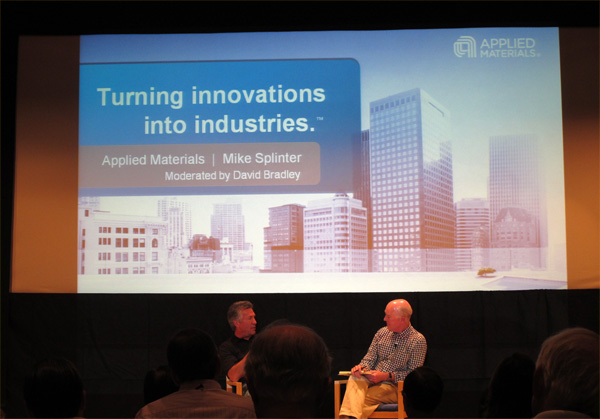 Ask almost anyone at the Aspen Ideas Festival how to create jobs and drive economic growth and you're likely to get a one-word answer: innovation.
Everyone agrees that it's good, and that some companies are better at it than others, but what it is remains a bit mysterious. One insight into the process came during this morning's conversation between Atlantic Media chief David Bradley and Applied Materials' CEO Mike Splinter. An audience member asked a simple question with deep implications: if manufacturing continues to move offshore, can the United States continue to innovate?
The premise behind the question, as Splinter explained, is that manufacturing isn't just where ideas are put into practice, but a key part of the innovation ecosystem. (He should know: he once ran Intel's top chip fab.)
It's possible, the question suggested, that the factory itself is a site of innovation because the people closest to the work of building things know how to make them better. That view is a challenge to the simplified idea that research, product development, and manufacturing are discrete steps. But it's close to the nuanced theories of innovation that researchers like
Peter Karnøe
at Copenhagen Business School and
Gregory Nemet
 at the University of Wisconsin have put forth about how technologies actually improve.
Karnoe's work, for example, focused on why the tiny Danish wind industry was able to successfully compete with the U.S. wind companies of the 1980s. It turned out that their manufacturing and operations people had greater influence over R&D decisions than in the American companies. Information about best practices and problems passed easily between pieces of the operation, so improvements came steadily, and bad surprises were limited.
All of which suggests that American companies' narrow focus on optimizing costs by manufacturing off-shore may end up pulling a key component out of the country's innovation engine.
Image: Mike Splinter (left) and David Bradley discuss innovation in Silicon Valley. Credit: Alexis Madrigal