June Auto Sales Show Mixed Results
The big seven auto companies all saw gains in U.S. sales in June, compared to a year earlier. That might sound like great news, but all but one sold fewer cars in June than in May. Thus, the results are mixed for the industry.
First, here's a chart showing how the seven major U.S. automakers fared in domestic sales compared to a year earlier: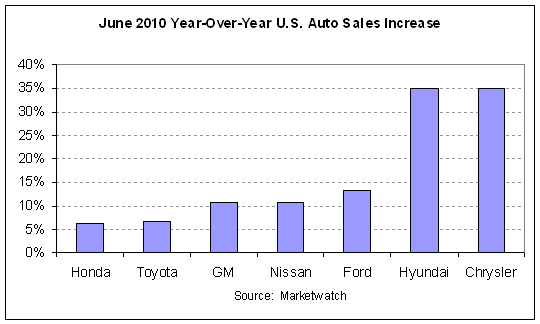 You can see that Hyundai and Chrysler are standouts, while Honda and Toyota are at the bottom of the pack. But year-over-year change isn't the whole story. Even though all these companies' performances look great from the chart above, compared to May, the picture looks much worse: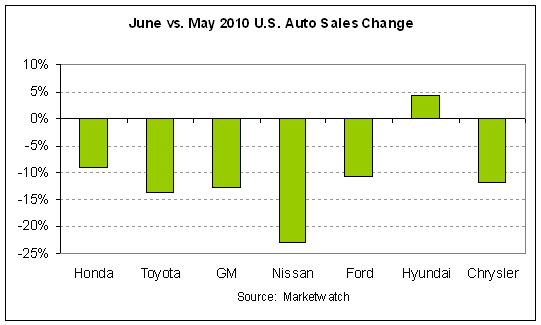 The combined sales of these seven automakers declined 12% month-over-month. As the chart shows, Hyundai is the only company where sales grew both compared to a month and year earlier. Chrysler's strong June compared to a year earlier looks far less impressive if you consider it reflects a 12% decline versus May.
Finally, market shares shifted a bit as well compared to a year ago: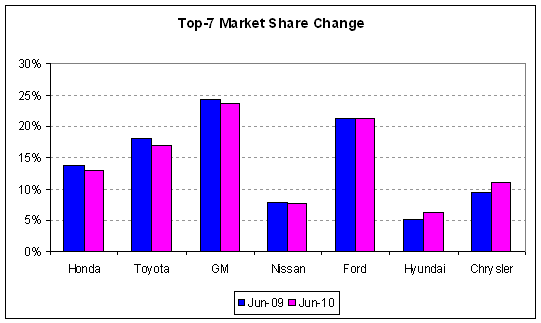 This shows that Hyundai and Chrysler gained more than 1% share, while Toyota and Honda each lost about 1%. Overall, the auto market is doing far better than it was a year ago. Considering the weak performance compared to May, however, it's hard to conclude that their sales are on a steep upward trend.