IMF: Great Job, World Economy! (Except You, Europe)
.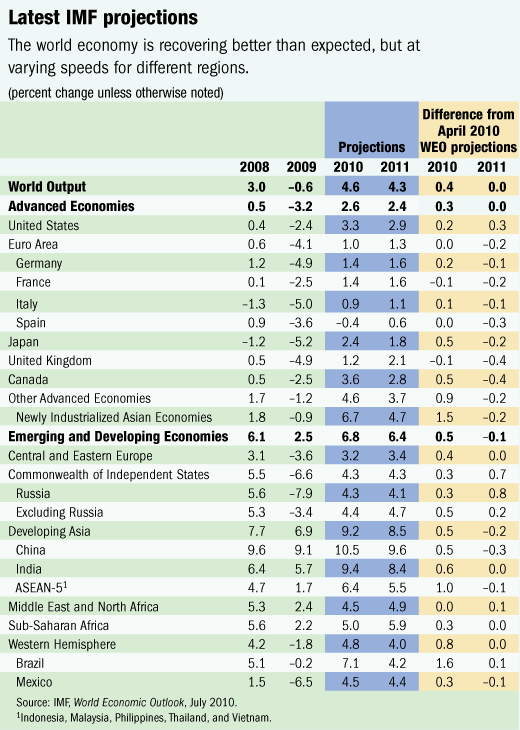 The world economy is doing just great! If you ignore Europe and the United States.
That's the gist of the IMF's new global economic outlook, which projects emerging and developing economies like Russia, China and Brazil to grow about 50% faster than the developed world in the next year.
For the United States, the good news is that a strong China and India should bode well for U.S. export growth, which might hold over business production while our own demand recovers. Bad news: the IMF doesn't expect a high-octane recovery. In fact, it projects unemployment to average more than 9 percent through 2011. Slower growth means lower tax revenue. Lower tax revenue means higher projected deficits if we don't act. And that's where the IMF's deficit reduction suggestions come in.
It's the same old song. First, they approve of administration plans to freeze discretionary spending. Second, they call for tax reform, beginning with the elimination of the regressive mortgage interest deduction and continuing with a grab bag of ideas from a VAT to a bank tax. Third, they call for entitlement reform, beginning with raising the retirement age in Social Security.
Freeze spending, raise taxes, cut entitlements. A familiar trinity. But if unemployment remains stuck at 9 percent for another 12 months, as the report seems to suggest, it's hard to see the administration getting behind any effort to raise taxes or cut entitlement outlays to elderly folks who've seen their savings burned in the credit crunch.