If Firms Are Hiring, Then Where Are the Jobs?
In the second quarter, the U.S. economy only saw few hundred thousand net new jobs in the private sector. Yet, according to a new survey (.pdf) by the National Association for Business Economics (NABE), nearly one-thirds of firms were hiring. How could this be?
First, here's NABE's employment chart, showing net hiring: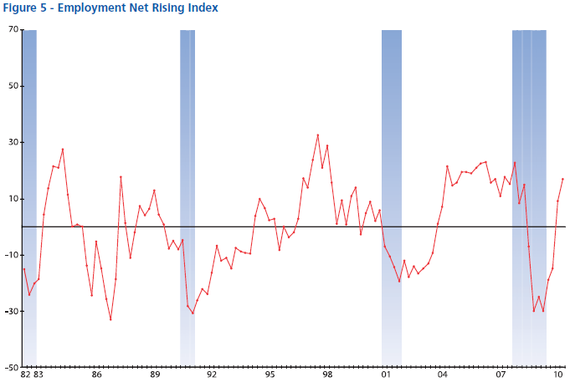 And therein lies your first clue. Although 31% of firms were hiring, 14% were laying people off, making for a net percentage of just 17% hiring. That sounds more like it.
Another likely problem could have to do with how many new employees these firms are hiring. Instead of seeking four or five new employees, some small businesses might be hiring one or two more, and insisting that workers ramp up their productivity until the economy strengthens, for example. Just because firms are hiring doesn't mean they're bringing on a lot of new workers, just some new workers. So this measure probably isn't the best indicator to judge labor market health.
But it is notable. And as the chart above shows, the trend is clearly a very positive one. The number of net firms hiring is approaching pre-recession levels. Of course, the labor market will have to do a lot better than that to attain the 10 million new jobs it needs to get employment back to natural levels.
In terms of which industries are hiring, goods producing firms led the way, with net hiring at 33%. Finance, insurance, and real estate are also coming back, showing net hiring of 31% of firms polled. The worst industry segment was transportation, utilities, information, and communications, which had negative net hiring of 23%.
The NABE report also gauges employment outlook. According to this measure, 39% of firms they polled said they plan to hire in the next six months, up slightly from 37% in April. Financial firms were especially bullish on hiring, with 54% indicating that they planned to expand their payrolls this year. NABE's expected employment index rose as well in the second quarter: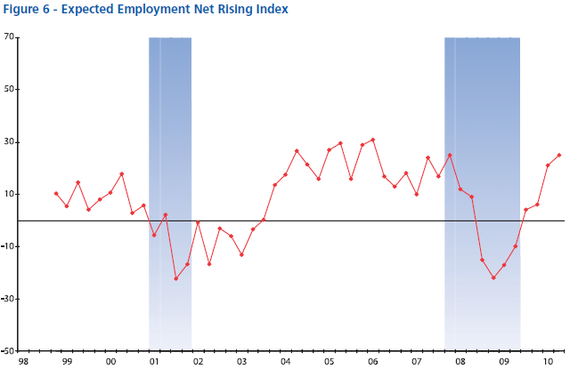 Yet, a few other key indicators that NABE tracks weren't doing as well as employment. Capital spending was essentially flat, while industry demand and profit margins were down. Considering these changes, it's hard to see why more businesses would be more eager to hire in the months to come, unless they would have hired already but were waiting to make sure the recovery was stable.