Home Builders See Demand Further Weaken
Home builders continued to perceive weaker demand in June. The National Association of Home Builders' Housing Market Index declined to 14 last month. That's the lowest reading since April 2009. Here's how that looks in a chart: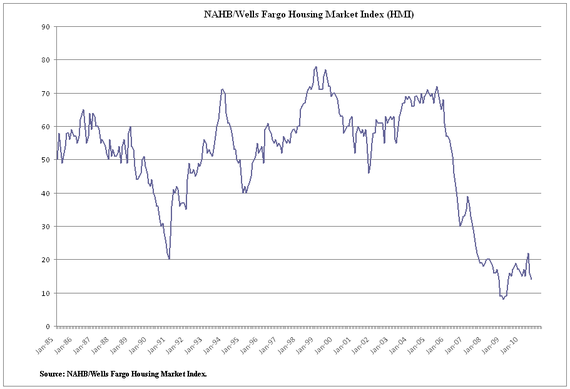 Since the expiration of the home buyer credit, a pessimistic outlook has taken hold of builders. Of course, with such a large inventory of existing homes available through foreclosure auctions and short sales, there's little need for perspective buyers to bother building new houses. And as mortgage applications for purchases now sitting at a 1996 level show, there are few people out there who want to buy a home right now anyway.
This is pretty bad news for construction jobs. They fell further in June, now down 2.14 million, or 28%, since their peak in 2006. The residential construction subset is down nearly 600,000 jobs, or 43%, since the market's peak. This home builders' outlook implies that few of those jobs are likely to return anytime soon.