Corporate Profits Are Up Because of the Unemployment Crisis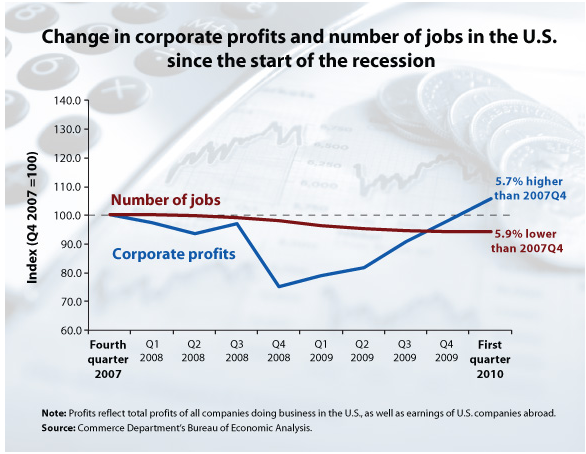 Ryan Avent has a stellar
post
at Economist about the hot-hot-hot! debate over corporate profits, confidence and the economy. If you're just joining, here's the nutshell: Corporate profits, led by the financial sector and many large Fortune 500 companies, have recovered, but rather than hire new workers or build new machines, companies are parking on a record $1.8 trillion pile of cash. Why? Blame it on low demand, blame it on Europe, blame it on Obama's new reforms, blame it on nervous CEOs, blame it on globalization's impact on structural employment ... you can make good arguments for all of them.
Consider Ford. The auto maker's North American revenue is down $20 billion since 2005, but the company expects to turn a $5 billion profit in 2010 since it's slashed its stateside workforce by almost 50% in that time. Some might say corporate profits are up despite the weak consumer. But it's also fair to say that corporate profits are up because companies have laid off so many worker/consumers. That makes corporate profits and the unemployment crisis part of the same story.
Avent sums up:

Firms have trimmed workforces by more than called for based on declines in sales alone, and having created a deep pool of unemployed labour, firms now have the leverage to demand higher levels of productivity from remaining workers without paying higher wages...

Many companies are running healthy profits on top of the unhealthy labor market by squeezing productivity -- that's output/hour -- out of their leaner payroll. How do you fix this? How do you encourage businesses to take a chance on new factories, machines, products, and people? You can hope for overseas demand to increase. You can try to create domestic demand. Or you can stand back and hope demand self-generates in the absence of government action. With Washington tied in a knot, it's hard to see Congress passing another stimulus measure. Conservatives are about to get the stand-back-and-watch government they've been waiting for.