Consumer Credit Fell 4.5% in May
Americans continued to pay down their debt in May, as credit shrunk for the fourth consecutive month. Consumer credit fell by $9 billion, or an annualized rate of 4.5%, during the month, according to the
Federal Reserve
. It's down $37 billion, also 4.5% annualized, since January. Both revolving debt (like credit cards) and non-revolving debt (like
mortgages and
auto loans) dipped in May, down by annualized rates of 10.5% ($7 billion) and 1.4% ($2 billion), respectively.
There was also a huge downward revision in the values provided last month for April's consumer credit tally. Total consumer debt was thought to have risen by 0.5% annualized or about $1 billion, mostly due to additional non-revolving credit, which was thought to have increased by 7.1% annualized or $9 billion. Instead, we now know that credit fell drastically in April. Total consumer debt declined by $15 billion (7.3% annualized), while non-revolving debt dropped by $7 billion (4.9% annualized).
Here's a chart showing some history for total, revolving, and non-revolving credit: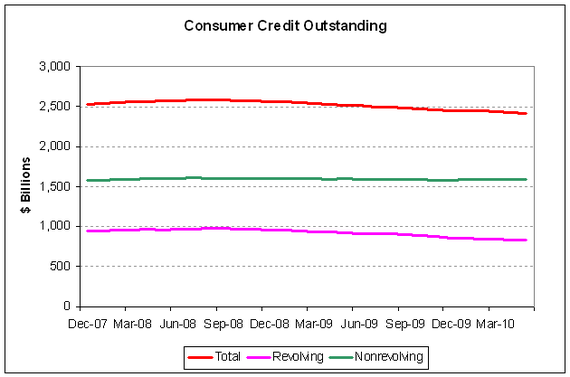 As you can see, non-revolving debt has hovered around $1.6 trillion level for most of this time period. But revolving credit has steadily declined. May marks the 20th straight month it has decreased. It's down an incredible $144 (14.9%) billion since September 2008. It has been largely responsible for the decline in total credit over the same period.
All holders of credit saw their balances decline in May, except for one. The U.S. government continued to add more debt, with another $6 billion. Of course, that was vastly overshadowed by the $15 billion less held by other sources. Commercial banks and finance companies alone reduced the credit they provided to consumers by $10 billion.
Consumer credit is likely shrinking for a combination of reasons. As we saw with delinquencies yesterday, Americans are trying to be more careful with their debt load these days. So many are choosing to pay down what they can, rather than spend more money. But banks are also stricter than they used to be when it comes to credit underwriting. That prevents some debt turnover that might have replenished the dwindling balances.
While there's certainly a positive aspect of consumers having less debt, some argue that the recovery would be a lot better off if they were spending this money instead of paying down their loans. The $166 billion decline in total consumer debt we've seen since July 2008 could have gone a long way in stimulating the economy and creating additional jobs. Of course, the silver lining is that when the economy does fully recover, the American consumer will exhibit greater fiscal health than before to the recession.