Consumer Confidence Fell Again in July
It's been a rough summer for the American consumer. After a big 8.4 point drop in June, confidence has fallen 3.9 points further in July, according to the Conference Board. In the last two months, all of the positive sentiment that grew this spring has been erased. This is grim news for the labor market.
Here's a chart showing a year's worth of confidence readings: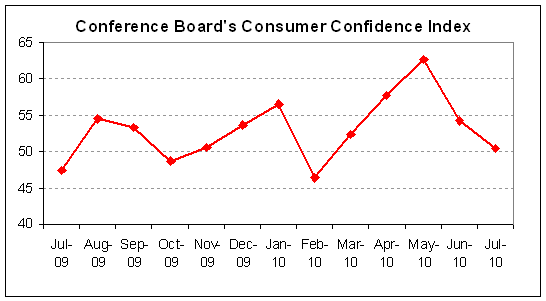 As you can see, the only month in 2010 where confidence was below the current level of 50.4 was February. The Conference Board's report says that its other measures of sentiment declined in July as well. Its Present Situation Index fell to 26.1 from 26.8, and its Expectations Index dropped to 66.6 from 72.7. Clearly, Americans view of the economy is getting worse, not better.
Here's Lynn Franco, the Director of The Conference Board Consumer Research Center, on July:
"Consumer confidence faded further in July as consumers continue to grow increasingly more pessimistic about the short-term outlook. Concerns about business conditions and the labor market are casting a dark cloud over consumers that is not likely to lift until the job market improves. Given consumers' heightened level of anxiety, along with their pessimistic income outlook and lackluster job growth, retailers are very likely to face a challenging back-to-school season."
The perception of weak consumer demand is the driving cause of why businesses have been slow to rehire workers this year. If confidence is getting worse, instead of better, then job growth will likely continue proceed at a crawl.