Construction Spending Fell Slightly in May
The construction market is already beginning to feel the absence of the home buyer credit, and possibly weaker economic sentiment among businesses. Spending on construction fell by 0.2% in May, according to the Census Bureau. That might not sound like much, as it was a little better than the 0.9% decline that economists expected. But it clearly shows a change in trajectory for the construction market, which isn't good news for one of the sectors that has suffered the most during the recession.
Let's start with the chart, since 2000: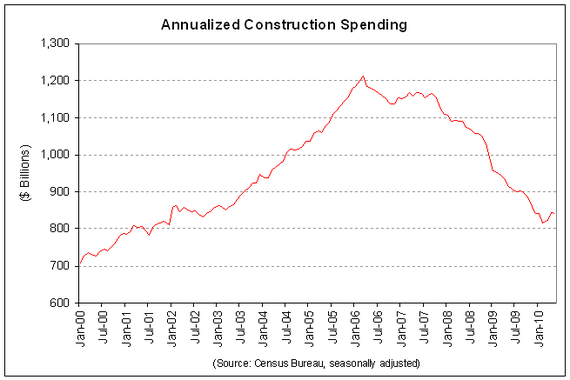 As you can see, for the first time since 2007, construction spending appeared to be making a slight comeback in early 2010. Spending increased in March and April. But May's decline proved that trend to be short-lived.
This is somewhat troubling because it provides a glimpse of what's to come. The home buyer credit brought about a fair amount of new activity to the industry, increasing residential construction spending by more than 5% from March through April. Much of this will carry into even the summer months. So we won't know where the bottom of the market really is until after those new dwellings are complete. Yet, we already began to see a decline in May. In fact, the residential component was down by 0.4%, driving the fall in overall construction spending.
What's even more troubling is that nonresidential construction spending also declined in May, though only slightly with a 0.1% drop. It had also increased in March through April. But the home buyer credit shouldn't have anything to do with how businesses are spending on construction. The fact that this component is also struggling, however, may indicate that firms are becoming uncomfortable with the economy. They are likely feeling cautious about engaging in new construction projects, since the recovery isn't shaping up to be a steep one.
As home buyer credit inspired construction continues to end in the coming months, construction spending will likely decline further on the residential side. If business sentiment increases, it could make up for part of that fall. But May's data appears to indicate that firms might not be willing to spend much on construction either in this economic environment.
Note: Data is all seasonally adjusted.