California City Nabs Highest Metro Unemployment Rate in June: 27.6%
The highest unemployment rate of any U.S. metropolitan area was in El Centro, California in June, where it reached 27.6%. That's actually an improvement, however, compared to its rate of 28.8% in May. The Bureau of Labor Statistics report on metro area unemployment was mixed, but here are some highlights from the results.
It's easiest to show how the 371 metropolitan statistical areas (excluding DC and Puerto Rico) did in June versus May through a chart:

As you can see, the vast majority of metro areas had their number and rate of unemployed increase in June. But more than half also had more employed workers. This implies that the labor force grew last month. The data concurs, showing that these 371 metro areas had a total of 662,000 more workers in June than they did in May.
It's always interesting to see the best and worst performers. Here are 25 struck hardest by unemployment in June: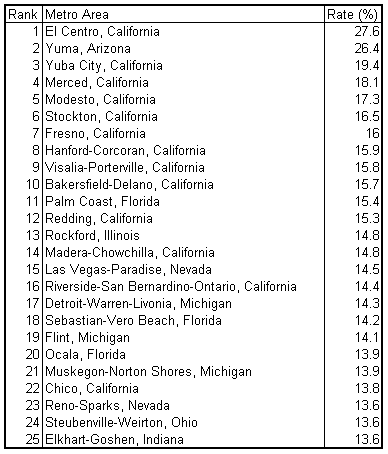 The chart shows that cities from the usual suspect states California, Arizona, Florida, Nevada, and Michigan account for all but three of the 25 worst. All of these rates are well above the non-seasonally adjusted national rate of 9.6% in June (see note below). These high rates also don't include discouraged workers, those marginally attached to the work force, or those forced to work part-time. The underemployed numbers including those individuals would be even higher.
On the other hand, the top cities are largely from the states doing the best -- the Dakotas and Nebraska. Here's the top 10: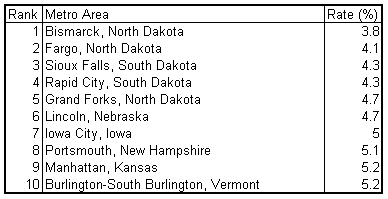 Finally, here's a nice map showing which metro areas are above or below the national average: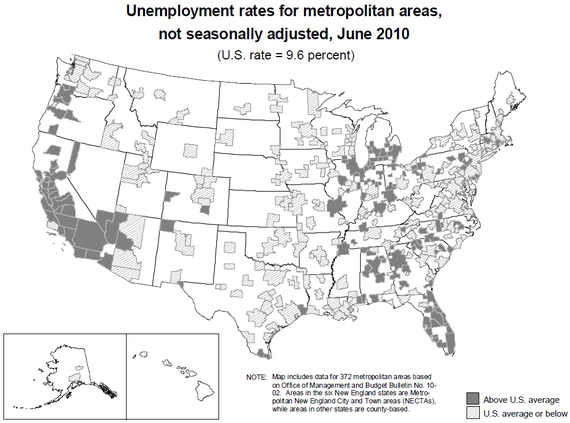 Note: Unlike most unemployment data, this metro report's statistics are not seasonally-adjusted. In the analysis above the District of Columbia and Puerto Rico were excluded, though BLS does provide that data.