Business Breakfast: 5 Stories We're Following
Business Breakfast this morning is ... a drag.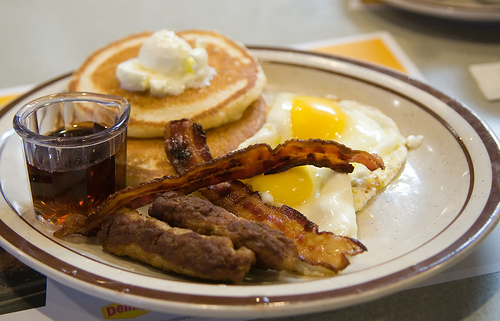 Business Breakfast this morning is ... a drag. The stimulus is a drag. World Cup TV profits were a drag. Financial regulation's lack of a "Volcker rule" is a big drag for its namesake. On the sunny side, JP Morgan's quarterly earnings suggest that Americans are digging out of debt.
The Stimulus Is About to Become a Drag: Stimulus' contribution to growth is essentially finished. [FreeExchange]

FinReg Should Have Included Volker Rules, Says Paul Volker: A well-regarded lion of the regulatory world, Mr. Volcker had endorsed the legislation before he went fishing, but unenthusiastically. If he were a teacher, and not a senior White House adviser and the towering former chairman of the Federal Reserve, he says, he would have given the new rules just an ordinary B -- not even a B-plus. For all of what he describes as the overhaul's strengths -- particularly the limits placed on banks' trading activities -- he still feels that the legislation doesn't go far enough in curbing potentially problematic bank activities like investing in hedge funds. [NYT]
World Cup TV: 24 Million Viewers and No Profits: More than 24.3 million soccer fans in the U.S. tuned in on July 11 to watch Spain defeat the Netherlands in the championship game of the World Cup, setting a U.S. record for a soccer match. One might think that an event that can pull in that many eyeballs would mint gold for TV networks. Not quite. [BusinessWeek]


Trickle Up: Main Street's Slow Recovery Helping I-Bank Profits: J.P. Morgan Chase & Co. generated stronger results than expected as it recovers from its wounds caused by soured loans. For the first time since the American economy started to recover, it was Main Street rather than Wall Street that lifted the bank's second-quarter earnings, by 76% from a year earlier, to $4.8 billion. The nation's third-largest bank by assets topped analysts' earnings estimates and improved net income in every line of business except investment banking, helped by a 23% reduction in reserves for loans unlikely to be paid back. [WSJ]

Verizon to AT&T: You Can Keep Your Stupid iPhone: Despite the pull of the iPhone, Verizon has managed to steadily increase its share of the smartphone market, to 26 percent in May, from 20 percent in late 2008. In the same period, AT&T's market share slipped to 40 percent, from around 45 percent, according to comScore. Those numbers do not take into account the impact of the popular iPhone 4, released last month.[NYT]
Delicious image of affordable breakfast meal from Denny's courtesy of Joits/Flickr.