Americans More Trusting of the Financial Industry
Americans' trust in the financial industry has reached a new high -- since 2008 anyway, when the Chicago Booth/Kellogg School created its Financial Trust Index. Obviously, it hasn't had very much room to decline during that time period. Since the financial crisis, banking, stocks, and the rest of the market has slowly begun to heal. Still, it's notable that, despite a relatively weak second quarter, Americans are feeling better about finance.
Here's how trust has changed, according to the latest report: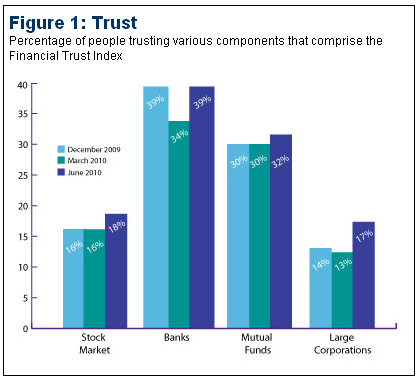 As you can see, views of banks haven't gotten much better since late last year, but the other categories have all improved.
More Americans plan on investing in stocks: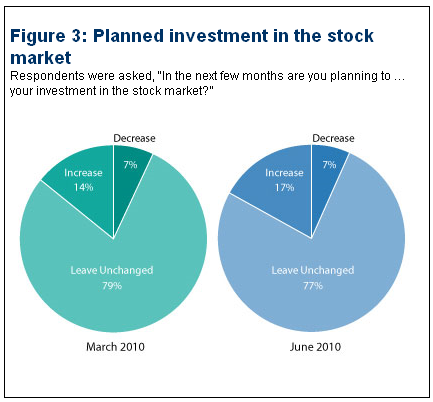 While a 3% pop in the number of people wanting to invest to a measly 17% won't excite stock brokers too much, they'll probably take what they can get at this point. The Dow Jones Industrial Average was down 11% last quarter.
Americans are less bullish about real estate, however. In fact, fewer believe prices will increase in the next 12 months: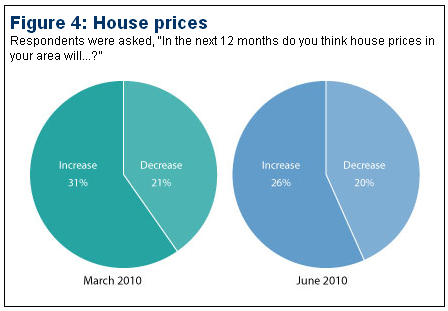 The 5% drop in those who expect prices to increase is pretty significant. But Americans don't appear to be terribly bearish either: fewer also believe that prices will decline.
Finally, Americans still broadly favor more government intervention in the financial markets. A majority want to see executive compensation capped, more financial regulation, and pressure on corporations to improve:
Interestingly, the report notes that the June survey was conducted as the Dodd-Frank Bill was near approval. In other words, Americans may want even more financial regulation than the legislation provided. That either means that they want stricter controls over the financial industry or different rules from what Dodd-Frank imposed.
In any case, it's not particularly surprising to see financial trust slowly and steadily improving. It still has a long way to go, however.