6 in 10 Workers Don't Think They'll Ever Get Social Security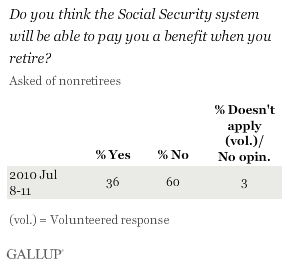 Sixty percent of today's workers do not expect to be paid a benefit -- that's a benefit -- from Social Security after they retire.

Whoa there, Negative Nancies. The program is projected to pay out 100% of benefits until the mid-2030s. After that, the program isn't broken or busted. Instead it will be able to pay about 75% of inflation-adjusted benefits.

Apparently 75% of projected benefits is infinity-times expected benefits for 60 percent of the workforce. The bad news for lawmakers is: fixing this program could cost a party some seats. The good news: nobody expects Social Security to exist in 40 years anyway! (Which gives me an idea: Schedule the program to end in 2050! Use the future savings to make a multi-trillion dollar stimulus bill deficit-neutral today!*)

If the poll targeted the youngest working generations, we shouldn't be surprised by the results. Research suggests Gen-Xers and Gen-Yers are more likely to think about their relationship with employers as transient, purely transactional. We're distrustful of permanence, of long-term promises and contractual relationships paying out. (The recession has only reinforced the notion that even medium-term relationships with companies are nothing to rely on.) It's the same with government. Nonretirees have fretted about the future of Social Security for decades.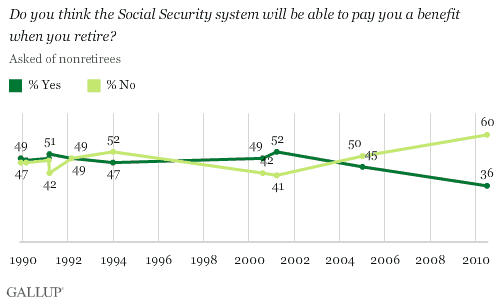 The surprising news is the seniors who don't think Social Security will continue paying full benefits in, say, six years. There is a lot of noise about reforming Social Security, but little talk about amending the benefits of current retirees.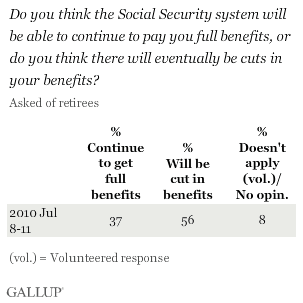 *That is not an actual idea.