Why Investors Are Bailing on BP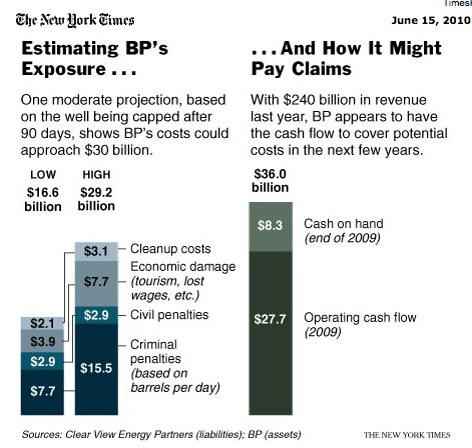 President Obama's speech on the BP oil spill might have received yawns from cable news and the commentariat, but the government's dealings with BP are making serious waves in the powerful credit default swap market.
Credit default swaps, which take stock of the likelihood that a bond won't be paid in full, have skyrocketed for BP. One month ago, BP's risk of default on its debt was priced at 7%. Today it's 39%.
The concern for BP isn't the direct cost of clean-up, which analysts put around $3 billion. The real danger is in the economic damages, or liabilities, to third party businesses, individuals and natural resources, which could run many billions higher. In his speech, the president called for BP to dedicate a certain sum of money to be placed in a escrow account so that an independent administrator could handle the damage claims. Some are calling for up to $20 billion.
The Oil Pollution Act of 1990 caps liability payouts at $75 million. So BP's safe, right? Probably not. Due to alleged safety violations (which would void the cap), efforts on Capitol Hill to eliminate the liability ceiling entirely, and BP's own promises to pay up, everybody expects the company to dole out billions to local Gulf businesses and the government. Even with a cash flow of more than $30 billion, BP's ultimate responsibility -- to the clean-up, the economic damages, and to civil and criminal penalties -- could run just as high in a worst case scenario.
[Image: New York Times]