What May's Disappointing Retail Sales Mean for the Economy
Retails sales fell unexpectedly and consumers cut back on spending, in yet another indication that May was rough month for the feeble recovery.
Retail sales tumbled by 1.2%, making it the worst (and first) decline in eight months. On top of last month's poor private sector job creation, this is rotten news.
What's happening? One acute cause is that sales of building materials took a 9% hit last month, following the expiration of the housing credit. More broadly, consumers are borrowing less, and saving more (consumer credit has fallen 17 months in the last year). In the long term, families with good credit is good news. In the short term, the historic deleveraging of the last year and a half hurts aggregate demand.
As the stimulus winds down -- and more gets stuck in the Congressional pipeline -- it's worth noting its impact on American income. We talk about the Recovery Act as a job-creator, a state-saver, and a road-builder, but it was also a wallet-fattener. Without the stimulus, personal income would have fallen by 8 percent in the recession. Instead, disposable income tread water due to billions of dollars of transfer payments and tax credits.*
Here's the graph showing "the difference in year-over-year growth in personal income minus transfers versus disposable personal incomes":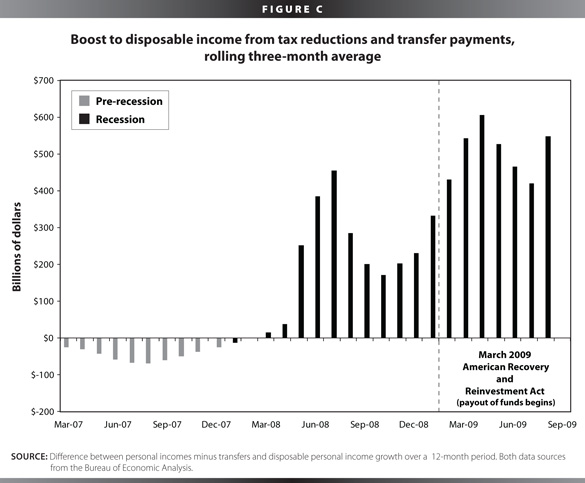 In short, consumer spending -- which makes up nearly 70 percent of the economy -- has held up because government spending offset the drop in private payrolls. If we start to cut back now by blocking unemployment benefits, there's no reason to expect anything less than a recovery that feels like treading water.
For more, see the article, How the Stimulus Fattened Our Wallets. To get a brief rundown on the state of the economy, read these 5 Reasons Why the Recovery Is (And Isn't) In Trouble