Unemployment Falls Back to 9.7% Thanks to Census Jobs
May provided another month of confusing unemployment data. The national rate fell back to 9.7%, according to the Bureau of Labor Statistics. That's where it stood from January through March, before rising to 9.9% in April. Today's report also indicates that there were 431,000 new jobs -- eclipsing last month's post-recession high of 290,000. But the news isn't as good as it looks: 411,000 of these jobs were temporary Census positions. In fact, private sector job growth was the weakest we've seen in months.
BLS also said that the number of unemployed Americans dropped in May to 15.0 million from 15.3 million in April. Today's report was both better and worse than economists expected. They thought the rate would only drop to 9.8%, but predicted 540,000 new jobs.
Before getting into greater detail on today's numbers, here are a few historical charts from BLS. First, the unemployment rate over the past two years:
And then the monthly change in jobs: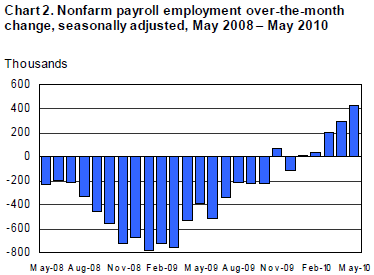 But don't let that that tall bar for May fool you: the trend isn't continuing. In fact, private sector job growth was only up 41,000 in May. That's the worst we've seen since February. It appears that the labor market has taken a step back.
Here's how various sectors fared: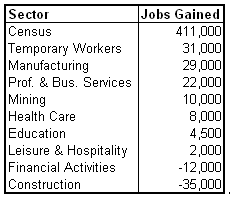 As you can see, permanent work didn't do so well. The Census and other temporary jobs led the growth. Meanwhile, construction experienced a larger contraction at 35,000 jobs lost than any gain shown for a single permanent job sector above. This may reflect an adjustment for fewer new homes being built as buying demand declines without the government tax credit.
Discouraged job-seekers declined a bit, but remained above one million. Here's a chart showing the history: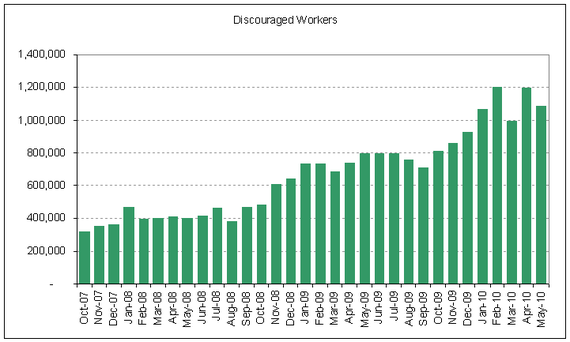 The broadest measure of unemployment, "U-6," improved by a half a percentage point in May, moving to 16.6% from 17.1% in April. This is the percentage of unemployed plus discouraged workers, those marginally attached to the labor force, and those forced to work part time because they can't find full time work.
Unemployment duration stayed on its worrying trend in May. The number of workers unemployed for at least 27 weeks rose by 47,000 Americans to 6,763,000 people. The number of long-term jobless from this recession continues to shatter records.
Seasonality didn't play too big a role in this month's data. The adjusted rate remained above the unadjusted rate: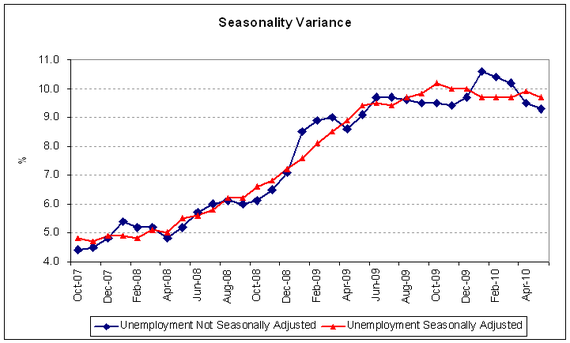 Expect to see it sink back below in June. That could provide the lowest unemployment rate we've seen in nearly a year, even with little job growth. The unadjusted rate was 9.3% last month.
May's jobs report doesn't provide much good news. Employment grew, but almost entirely due to temporary Census jobs. Meanwhile, the number of discouraged job-seekers remained high and more Americans were unemployed for at least half-a-year. The only glimmer of positive news was that U-6 declined half a point, but some of that is also due to Census jobs. They now total 564,000.
As for our polls, readers didn't do too badly this month. 17.9% correctly guessed that 9.7% would be the rate in May. Meanwhile 23.1% correctly predicted that there would be between 400,001 and 500,000 jobs added to the economy.
Note: Unless otherwise noted, all data is seasonally adjusted.