This Is What an Unemployment Crisis Looks Like
Congress took its Memorial Day vacation before it could send the president a bill extending a number of safety net benefits like unemployment aid and insurance assistance. Worries about adding to the short-term deficit caused some moderate and conservative politicians to bargain down stimulus' deficit tag from $100 billion to $50 billion, but passage of the bill is still no cinch. Here's one reason it should be.
The deficit is concerning, but it's not nearly as concerning as the unprecedented state of our job market. Look at this graph, which tracks the percentage of total unemployed, who have been without work for 27 weeks or longer.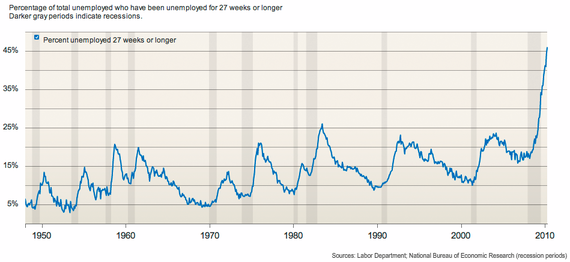 Stated another way, the number of Americans unemployed for more than six months is more than six million, and roughly equal to the population of Massachusetts.
You've already heard many the conclusions one can draw from this graph. It paints the picture of a labor force that faces deep structural upheaval and millions of jobs -- especially in industries related to real estate -- are simply not coming back. Even for the jobs that will return, long-term unemployment atrophies skills and makes workers less competitive.
Conservatives have argued that this picture is the result of, rather than a rationale for, unemployment benefits that can last up to 99 weeks because unemployment insurance inflates the unemployment rate by encouraging folks to stay home and collect checks. Certainly, subsidizing joblessness might encourage some folks to not seek a job. But the San Francisco Fed
found
the impact was minimal: "in the absence of extended benefits, the unemployment rate would have been about 0.4 percentage point lower at the end of 2009, or about 9.6% rather than 10.0%."