Service Sector Continues to Grow
Jobs in services! For the first time in 28 months, employment in the non-manufacturing jobs grew in May, according to the Institute for Supply Management (ISM). This is part of the bigger message that the services industry is expanding.
Here's ISM's chart showing how each of the components it tracks has changed nationally: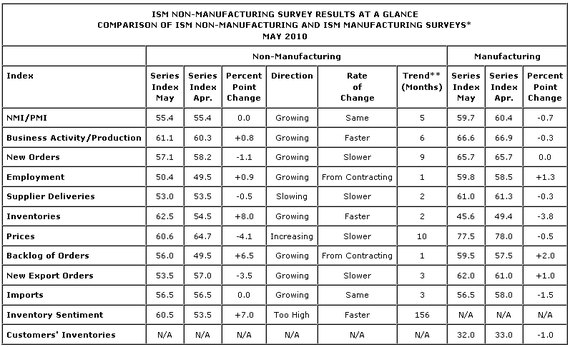 As you can see, almost every item in the chart is growing for non-manufacturing. This indicates a general expansion in services. The two standouts included employment and the backlog of orders, each of which were contracting in April, but grew in May. As already mentioned, the employment growth is a pretty big deal. It's the first time we've seen that since the beginning of the recession. The backlog of orders growing may indicate that this hiring isn't happening quickly enough to keep up with demand. If that's the case, then service jobs will continue to grow in the months to come.
The only slightly bad news from this report is that new orders declined by 1.1%. This is a pretty small decline, however, and the index still indicates that orders are growing. So this isn't reason for too much concern -- yet.
In an economic recovery, the manufacturing sector often begins to expand before the service sector. Services tend to reflect less vital spending, so consumers start using their disposable income for service-related expenses like travel and entertainment last. If employment in services continues to grow, then it's probably safe to say that a broad economic recovery is underway. Of course, this is the first month that we're seeing this kind of across-the-board improvement for services, so the trend needs to continue before drawing any certain conclusions.