Productivity Still Growing, but at Slower Pace
Output continued to outpace hours worked in the first quarter, as labor productivity kept growing. Its growth rate was 2.8% last quarter, according to the Bureau of Labor Statistics. That's the lowest rate we've seen in a year. It grew by 6.3% in the final quarter of 2009. Lower productivity might sound like a bad thing, but its decline is inevitable as the labor market recovery begins and output returns to a more sustainable pace.
During the recession, employers eliminated a lot of jobs. As the economy began to improve, hiring didn't keep up with the additional output demanded. That drove up productivity, which is the measure of output per hour worked. You can see this through the steep rise in productivity since the recession began: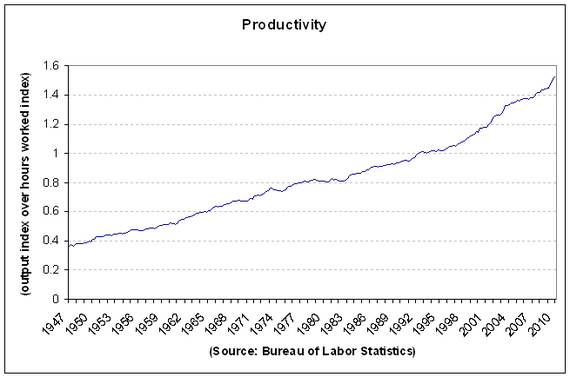 Although productivity continued to grow last quarter, it did so at a lower pace than in the past few quarters. Productivity growth slowing, in part, indicates that employers are finally beginning to take on more workers. Hours grew by 1.1%, compared to 0.7% growth in the fourth quarter. That isn't the whole story, however, as output didn't grow as quickly -- by 4.0% in the first quarter, compared to 7.0% in the quarter prior.
The following chart shows the relation between productivity and unemployment: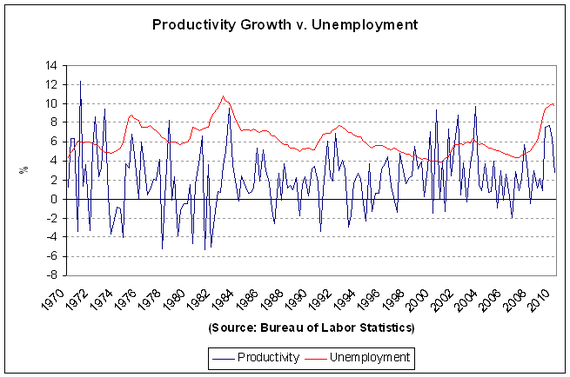 As you can see, productivity growth has declined significantly over the past few quarters. It looks like it peaked in the third quarter of 2009. Unemployment likely reached its highest level in the quarter that followed. Thus, productivity's decline should slightly lead that of unemployment, assuming that output doesn't decline. You can see this relation in the history shown on the chart. For example, the recession in the early 1990s saw a peak in productivity just before unemployment began a steady decline.
So really, slower productivity growth isn't necessarily bad. It indicates that employers are starting to hire at a rate that better captures economic demand. There's still obviously a lot more hiring that needs to take place, considering how high productivity has been since 2008. If the correlation shown in the second chart above holds up, unemployment should continue to decline, as long as output stays reasonably high.