Pending Home Sales Rose Again in April as Credit Expired
Americans proved once again how much they love tax credits in April. Pending home sales soared 6.0%, according to the National Association of Realtors. They hit a level not seen since October as people rushed to sign contracts on houses before the home buyer credit expired at the end of the month. This result was expected, and so is a big fall in May.
Here's a chart showing how pending sales have changed since December 2008: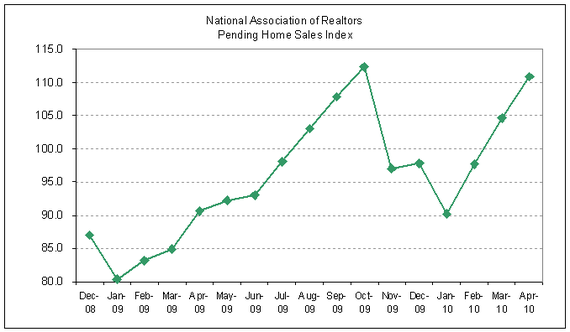 The two maximum points shown have something in common: they were both driven by the imminent expiration of the home buyer credit. The first was set to expire at the end of November, but it was extended early in the month. So those October purchases were a response to fears that it wouldn't be renewed. You can see that, in April, pending home sales almost reached precisely the same level -- since the credit actually was expiring this time. They were just 1.3% lower than in October.
Of course, we can also expect the a similar drop for May as we saw in November; in fact, the decline could be even greater. The Mortgage Bankers Association reported separately today that mortgages applicaitons for home purchases were down another 5.2% last week. They were down an incredible 40% in May, falling to a level not seen since April 1997. To put that into perspective, if pending home sales also declined by 40% last month, then the index shown in the chart above would decline to around 67 -- well below any point shown.