Nevada Surpasses Michigan for Highest Unemployment Rate
The Nevada labor force isn't feeling very lucky lately. The state's unemployment rate rose to 14% in May, surpassing Michigan as the state with the worst job market. This is the first time since April 2006 that a state other than Michigan has had the highest unemployment rate in the nation, according to the Bureau of Labor Statistics. Although Nevada's job market deteriorated further last month, most other states saw some improvement.
In May, just eleven states reported more jobless residents. The other 39 saw their population of unemployed people decline. In terms of deterioration, Nevada led the way. Its unemployment rate jumped 0.3%. Louisiana was second with a 0.2% increase. Four other states tied for a 0.1% rise: Montana, Oklahoma, Arizona, and Pennsylvania.
Though not technically a state, the District of Columbia report the most job market improvement. Its unemployment rate fell 0.6% to 10.4%. The Carolinas both also had a good month, with their rates dropping by 0.5%. Illinois and Michigan had a 0.4% fall in their portions of jobless residents. Five other states had a 0.3% decline: Wisconsin, Florida, New Hampshire, Maryland, and New Mexico.
Here's a chart with some specifics regarding the biggest changes on both ends of the spectrum: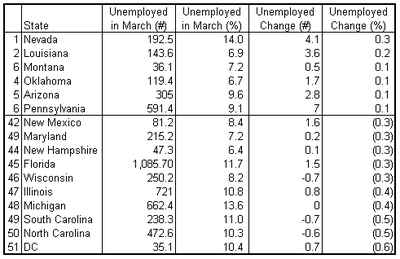 How bad is the job market in Nevada? Besides having the worst month in May and rising to the top spot for the highest rate, it also had the biggest year-over-year rise in its unemployment rate. Since May 2009, it jumped 2.5%.
Nevada's economy was heavily reliant on housing. The market's collapse resulted in a big drop in its home prices and thousands of mortgage defaults. It has consistently been at the top of the list for most foreclosures. That also probably helps to explain why Arizona's labor market also continues to struggle. Poor labor mobility due to housing troubles is likely part of the reason why these states continue to see their unemployment rates increase.
Michigan dropped to second worst, with its unemployment rate falling to 13.6% in May. California, Rhode Island, and Florida round out the 5-worst list with rates of 12.4%, 12.3%, and 11.7%, respectively. The best states remain the Dakotas, which managed to actually both see their unemployment rates decline even further last month. North Dakota and South Dakota had rates of 3.6% and 4.6%, respectively.
Here's the map that BLS provides: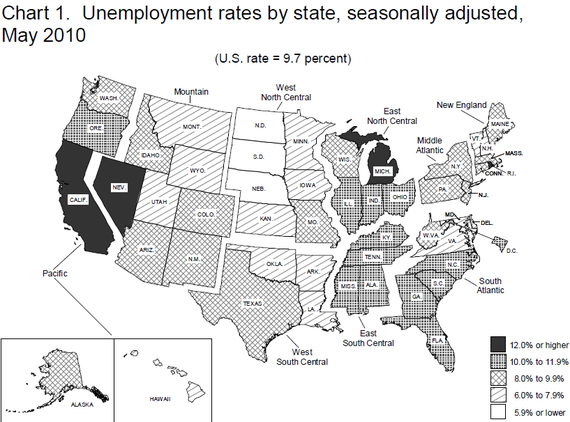 Note: All data above is seasonally adjusted.