Mortgage Purchase Applications Continue to Plummet
What housing market recovery? That's the question that realtors must be asking themselves since the end of the government tax credit. Mortgage applications from purchases continued to fall last week by another 5.7%, according to the Mortgage Bankers Association. They're down an amazing 42.4% since the credit expired at the end of April. Americans' demand for buying homes has sunk an incredibly low level.
How low? The MBA index is now at its lowest level since February 1997. Here's how that looks: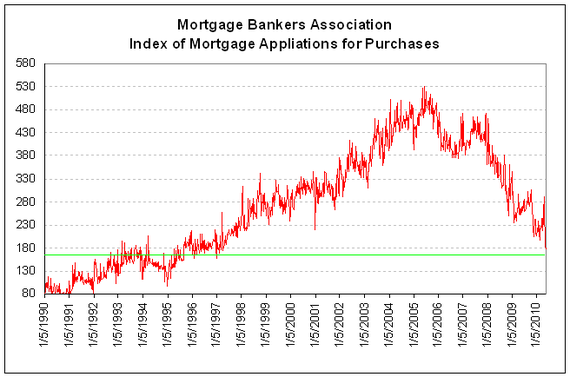 The green line is where the index currently stands. This is the fifth week straight the index has declined, as Americans' interest in purchasing homes has fallen off a cliff.
It's even too early to begin asking when home buying might ramp back up -- it's still on the decline. At this point, we have to wonder when the bleeding might stop. It fell more last week than the week prior. It would now have to grow 75% to reach its level from the end of April. And as the chart shows, even that was pretty low compared to the peak of the housing market. Purchases would have to grow by 219% to match that high.
At some point, the market will settle at a new normal. Since the government credit skewed where that point lies, we'll have to wait and see over the next several months how housing fares without that support. And remember, these declines have been happening at sub 5% mortgage interest rates. If rates start rising, sellers will really be in trouble.
Note: All figures above are seasonally adjusted.
Small Reivision: Initially, I reported the decline to hit December 1996 levels. Due to the way MBA provides these numbers, it's hard to tell precisely how it compares to past levels. Others are saying February 1997, and since there was a point then very close to this month's value, that's the more conservative estimate, and thus, safer to report.