May Auto Sales Favored Chrysler and Hyundai While Toyota Stumbled
Americans continued to buy more cars in May, as U.S. auto sales increased for the seventh straight month compared to a year earlier. While all seven of the biggest automakers posted better results, some stood out more than others. Ford, Nissan, Chrysler, and Hyundai all posted gains exceeding 20%. Meanwhile, Toyota was the only one in single digits, with just 7% better sales.
It's always easiest to start with a chart: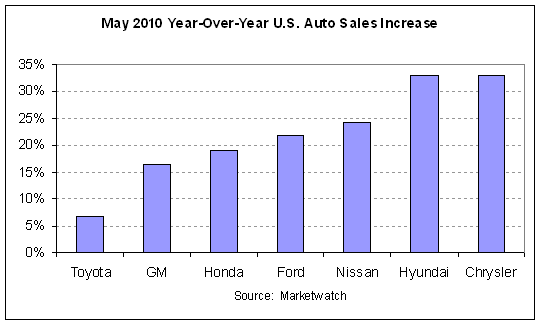 As you can see, Chrysler and Hyundai did the best, with 33% increases in sales compared to May 2009. Ford and Nissan also performed quite well, with 22% and 24% gains, respectively. GM and Honda got honorable mentions with 17% and 19% more sales. But then there was Toyota. Its measly 7% sales growth put it dead last among the big automakers for improvement. Could its recent accelerator issues be stunting its growth?
On an aggregate basis, there's no question that automakers are doing a lot better than they were in 2009. These seven saw a combined 19% increase in sales compared to a year earlier. But how is market share changing? If you consider just this universe of the seven largest automakers, here's how market share shifted in May 2010 compared to May 2009: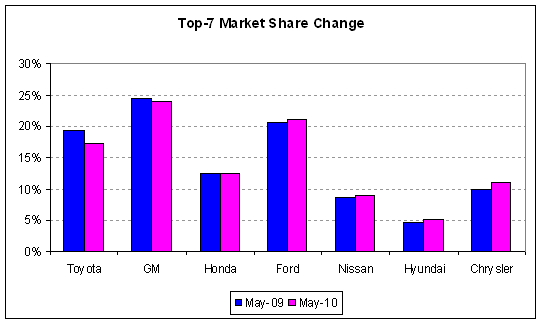 There's bad news here for Toyota and GM, which both saw fewer sales as a portion of the total market. Toyota, in particular, saw a 2% drop in its market share. Honda was flat, while the other four saw small increases. Chrysler was the star in May: it was the only one to gain more than 1% market share compared to a year earlier.
All of these automakers did better in comparison to April as well. Their aggregate sales were up 14% month-over-month. Each saw growth, but Toyota and Honda saw the smallest improvement, each achieving only a 3% gain versus April. Nissan, GM, and Ford saw the biggest monthly gains, with sales growth of 31%, 22%, and 18%, respectively.
The theme here is somewhat similar to what we've been seeing. The U.S. automakers are doing better, while Hyundai and Nissan continue to shine when it comes to imports. Toyota's performance might provide reason for concern; though, we'll have to wait until future months to see if comparably weak sales growth is a new trend for the automaker or if May was just a blip.