Is the Recovery Running Out of Steam?
We might not get that V-shaped recovery economists were desperately hoping for. The Conference Board's Leading Economic Index increased in May, but only slightly. That follows a flat month in April. The chart tells the story: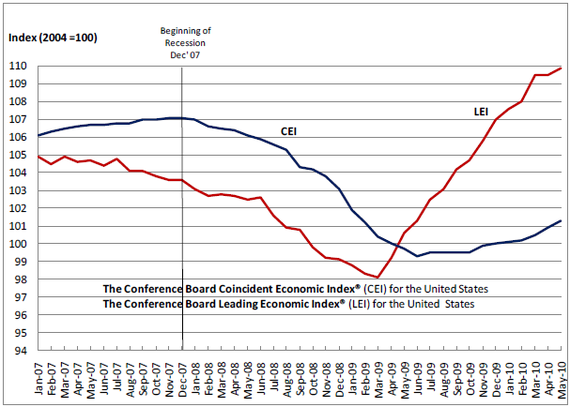 Focus on the red line, which are the leading indicators. You can see that it rose quite steeply from March 2009 through March 2010. But in April, it began to plateau.
It's important to understand this in context. First, the flat April reading makes sense, given how poor so much of the May economic data has turned out. Second, it's good news that the leading index grew again in May. That might mean June will be better.
But in May, the index only increased by 0.4%. Back in March, however, the growth was 1.4%. So the sort of steep growth the index predicted through March may be over. If it is, then this reinforces the view that the recovery will be slow.
For greater detail, here's the Conference Board explaining how its index's components performed:
Five of the ten indicators that make up The Conference Board LEI for the U.S. increased in May. The positive contributors - beginning with the largest positive contributor - were the interest rate spread, real money supply, average weekly manufacturing hours, the index of consumer expectations, and manufacturers' new orders for consumer goods and materials. The negative contributors - beginning with the largest negative contributor - were stock prices, building permits, manufacturers' new orders for nondefense capital goods, the index of supplier deliveries (vendor performance), and average weekly initial claims for unemployment insurance (inverted).