How Much Has the Census Affected Unemployment in 2010?
So far this year, we've been hearing wonderful news about the labor market's improvement. The U.S. economy has seen additional jobs each month of 2010. Indeed, the tally has been growing steadily, reaching 431,000 in May. But we saw this month that temporary Census jobs are having a big impact -- they accounted for 411,000 of last month's new positions. How have government jobs affected the employment growth throughout the year?
This is easiest seen through a chart. Below, for each month, you'll find bars made up of three segments consisting of Census jobs (yellow), federal jobs other than Census and Postal (red), and then everything else non-federal (green).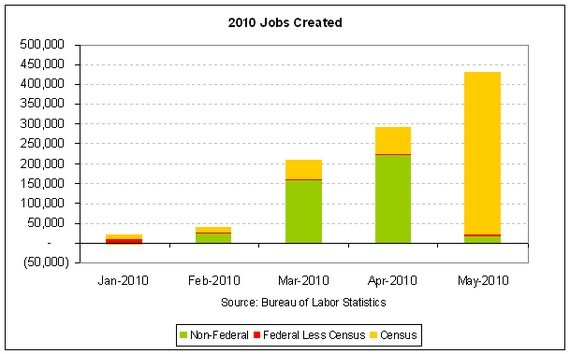 You can quickly see how much less impressive the picture looks without federal government jobs. If you take those out, January actually experienced 5,200 jobs lost, instead of 14,000 gained. The other months all saw far fewer jobs. The new highest mark was in April with 220,900 new positions not attributed to the federal government.
The totals look even worse. According to the Bureau of Labor Statistics May report, there have been 564,000 Census jobs added this year. There have been 21,800 other new federal jobs in 2010. That leaves 396,200 additional new non-federal jobs. If you compare that number to the 982,000 total, you can see that 60% have been Federal government jobs, and 57% temporary Census gigs. Since those Census jobs aren't permanent, more than a half-million workers will be unemployed again before too long.
The drop in new non-federal jobs from April to May is particularly alarming. It shows that the private sector is uncomfortable with ramping up hiring. The 15,900 non-federal jobs last month were virtually negligible, and the fewest since January's decline. Meanwhile, there are still 15 million unemployed Americans, another million discouraged, and several million more marginally attached or working part time because they can't find full time employment. Clearly, the labor market still has far to go before attaining the kind of strong private sector recovery Americans have been hoping for.