Housing Starts Fall 10% Without Buyer Credit
We knew this was coming: in the wake of the government's buyer credit expiration, construction began on fewer new homes in May. Housing starts were down a sizable 10% last month, reports the Census Bureau (.pdf). New permits fell too, for the second straight month. They were 6% lower in May. Since permits are more of a leading indicator, that makes sense. This is not great news for the housing market, but there is a sort of dull glimmer of hope provided by mortgage applications for purchases rising 7% last week.
Let's start with housing starts. Here's how the chart looks: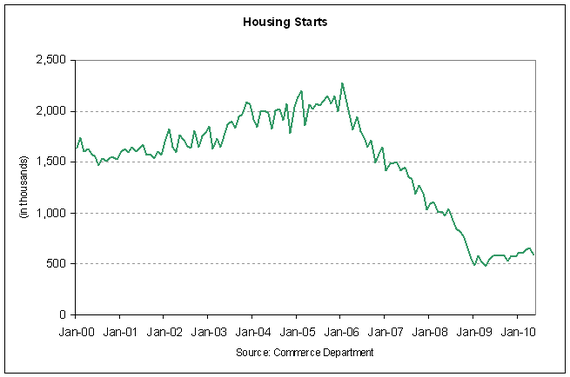 10% might not sound like much, but at an annualized, seasonally adjusted rate of just 593,000 they soundly missed economists' expectations of 623,000. And to make matters a little worse, April's number was revised down from 672,000 to 659,000. Going off what we thought starts were that month, in May they would have been down 12%.
On a historical basis, housing starts last month were the lowest we've seen since December. They are beginning to again approach record lows, as you can see from the chart. They would need a 20% drop to hit that level again.
Here's the chart for new permits: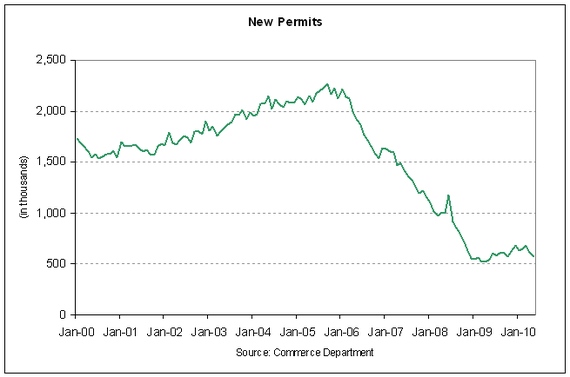 The story here is much the same, but a little worse. They were down 11% in April, bringing the two-month drop through May to 16%. Their seasonally adjusted, annualized rate of 574,000 is the lowest we've seen in a year. If they fall another 9%, they'll hit their all time low. Since this is a leading indicator, we can expect starts to fall again next month.
Of course, based on mortgage applications for purchases, we already knew that May was an awful time for the housing market. In fact, the 40% drop in applications for purchase we saw during the month suggested an even worse result than a 10% dive in starts. This implies that existing home sales are suffering more than new home construction.
This is a little surprising, considering that there are huge deals out there for foreclosures and short sales. But desperate builders are also likely providing big incentives at this time. Additionally, those who can afford a new home in this economic environment are probably pretty well-off financially, so might be more willing to pay a premium for a new home.
Speaking of mortgage applications for purchase, they were up this week for the first time since April, according to the Mortgage Bankers Association. Their 7% rise means that applications for purchases are now down 38% since the buyer credit expired. If we have really hit the bottom of the home purchase slide, and last week wasn't just a blip, then buyer demand might not sink much lower. Of course, if it stays around this level for an extended period, then that would mean extremely weak sales for some time. Here's the chart, of the index, with the green line representing the current level:
Note: All numbers above are seasonally adjusted.