Home Builder Confidence Plummets in June
There's some more sobering housing market news this morning: home builders are feeling a lot worse about their prospects. The National Association of Home Builders/Wells Fargo Housing Market Index (HMI) fell 5 points to 17 -- matching its February level. The gain that resulted from the home buyer credit in April and May is mostly gone.
The HMI gauges builder perceptions of current single-family home sales and sales expectations for the next six months, as well as the perceived traffic of prospective buyers. A score of 17 indicates an extremely weak market. Economists expected the HMI to only drop to 21. A number over 50 means more builders view the market as good, rather than poor. Clearly, it's a long way from there.
Here's the historical chart from data provided by the NAHB: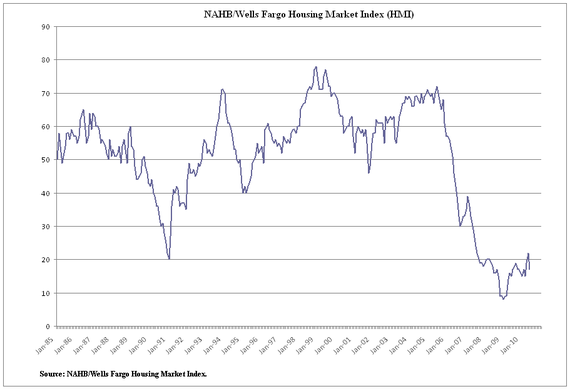 So we're still well above the low point of eight, hit in January 2009. But we're also a long way from having a healthy housing market. In fact, this chart appears to demonstrate that home builders feel that the gains in home sales from the buyer credit were a blip and did not create a sustainable path.
The HMI is another indicator that shows how little demand exists for residential real estate without the government credit. The hope is that home buying will pick up again quickly, but if purchase fatigue is prolonged, and sales are weak throughout the summer, you can expect this index to decline even further.