Foreclosures Down 3% in May
The good news: foreclosures declined a bit in May compared to April, down 3.3%. The bad news: they were higher last month than in May 2009, up 0.5%. So even though there were fewer foreclosures month-over-month, there were still far too many to begin feeling optimistic about the health of the housing market, with 322,920, according to foreclosure expert RealtyTrac. This news isn't comforting, especially considering the weak buying environment that these homes are being unleashed into.
Here's a chart showing monthly foreclosures over the past few years: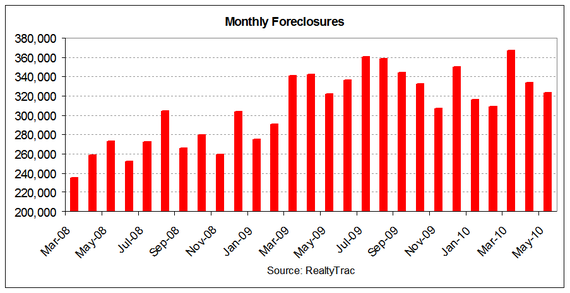 So we've made some progress since March, but we're still worse than January and February -- and still higher than any month prior to March 2009. What's particularly disappointing is that the year-over-year trend didn't continue last month: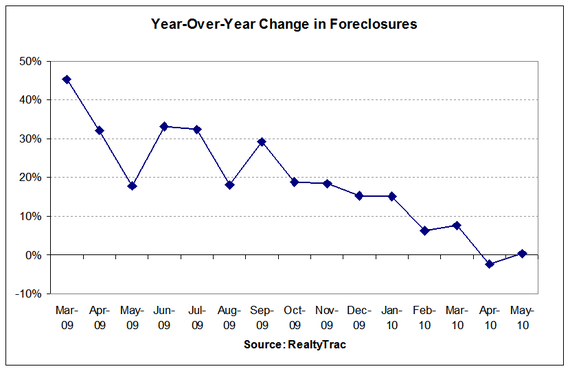 April's annual decline was the first we'd seen since the housing market collapse occurred. In May, however, foreclosures increased again compared to a year earlier, though the rise was a slight 0.5%.
The small kernel of good news continues to be the trend of the types of foreclosures we're seeing. Bank repossessions, or REOs, continued to increase, even though foreclosures overall have fallen for the past two months. There were 93,777 REOs in May, compared to 92.432 in April. This trend shows that banks are starting to try to burn through their shadow inventory of defaulted properties.
On a state-by-state basis, the worst-list of usual suspects stayed mostly the same, though Maryland replaced Colorado as #10, and a few switched spots. Here they are: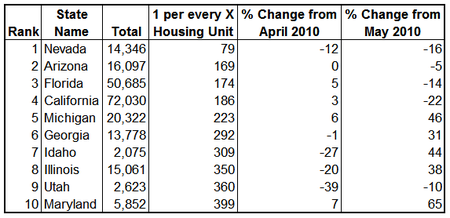 Nevada got a little better, as did the states ranked 6 through 9. Arizona, Florida, California, and Michigan, however, saw more foreclosures in May than in April.
Although foreclosures appear to be stabilizing, they're doing so at a very high level. This should be taken in context with the weak home buyer demand. We know that purchases are way down - by more than 40% since the end of April. Yet, foreclosures continue to flood the market in near-record numbers. If this dynamic continues, we'll see housing inventory increase, which will put pressure on prices to further decline.