First Quarter GDP Revised Down Again to 2.7%
The first quarter's economic health wasn't quite as strong as we originally thought. Initially estimated at 3.2%, GDP growth was revised a second and final time today from 3.0% to 2.7%, according to the Bureau of Economic Analysis. A half point fall from the original projection is disappointing, particularly since economists expected growth to remain at the first revision of 3.0%. The reason for this change casts more doubt on the strength of the American consumer.
First, here's a chart of historical GDP growth: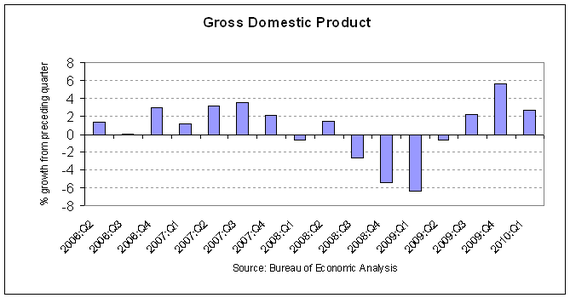 As you can see, the only quarter that rose above 3% since the recession began was the fourth quarter of 2009.
Like we saw in the second revision, consumer expenditures weren't quite as strong as we thought in May. Personal consumption spending only made up 2.13% of GDP growth, instead of 2.42%. Its revision brought down GDP growth by 0.29% from the second revision, so virtually the entire change could be blamed on this item.
Within consumer spending, that on services was mostly responsible for the decline. It made up virtually the entire drop in the latest revision, bringing GDP growth down by 0.27%.
There were a few additional component revisions that mostly canceled each other out as well. Exports were stronger than we thought last month. They contributed 1.27% to GDP growth, not 0.82%, as was estimated in May. Meanwhile, however, imports were even stronger. As a result, net exports were actually revised slightly downward, which lowered GDP growth by an additional 0.16%.
That small decline in GDP growth from net exports, however, was more than cancelled out by more inventory growth than was anticipated in May. The final revision to private inventories increased GDP growth by an additional 0.23%.
As was concluded in May, this revision isn't great news. Additional consumer spending, especially on services, is an important indicator. That figure's growth would demonstrate that sentiment is improving and Americans are more comfortable opening up their wallets. We now know that spending on services didn't grow by 2.4% as originally projected, but only 1.4%. Broader spending was revised from 3.6% growth to 3.0%. This isn't terrible, but it's certainly not as optimistic a picture of the U.S. consumer as the original March report painted.