Consumer Prices Fall 0.2% in May
The price level faced by consumers remained relatively steady in May. The Consumer Price Index (CPI) declined 0.2%, according to the Bureau of Labor Statistics. This follows a 0.1% decline in April. Deflation probably isn't much of a worry at this time, however, as core CPI -- the measure that ignores the volatile prices of energy and food -- actually rose slightly, by 0.1%. CPI is clearly under control, which is the same verdict noted for producer prices yesterday.
Let's start with the chart for CPI, from BLS:

It might look like a downward trend is forming for prices, but this is really mostly due to energy prices. They declined significantly in May -- by 2.9%. Most of that drop was due to gasoline prices, which were down 5.2%.
If you take out energy and food (which was flat), then the core CPI maintained its stability near zero. Here's a chart of Core CPI that takes the three-month average going back since the start of the recession: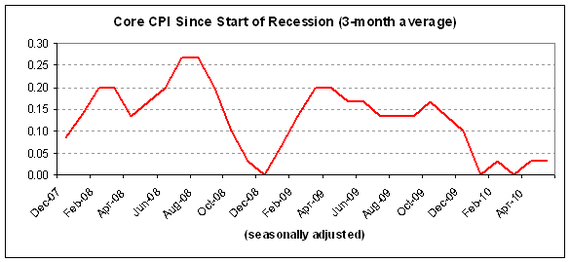 As you can see, prices excluding energy and food have actually been very steady near zero throughout 2010. In the past twelve months, core CPI has increased by 1%. That's about as low a level of inflation as we can generally hope for.
From a central banking standpoint, this continues to stress that macroeconomic concerns should be focused on unemployment, not inflation. That may change in the months to come, but for now inflation is not a problem. Consequently, the Federal Reserve will likely continue to leave rates alone.
Deflation also doesn't appear to be a threat at this time. If core starts going consistently negative, then we might begin to worry. But for now, prices appear quite stable at a very low level of inflation.
Note: All data above is seasonally adjusted.