Consumer Credit Increases Slightly in April
Americans signed more mortgages, but swiped their credit cards less often in April. The Federal Reserve
reports
that consumers increased their non-revolving debt (like
mortgages and
auto loans), and paid down their revolving debt (like credit cards) in April. Credit on a whole was virtually flat, rising just 0.5% on an annualized basis. The result is not altogether surprising, but we might see a new trend for May.
First, it's important to note that March was revised significantly. Initially, we thought total credit grew by 1.0%. Instead, it fell by 2.7%. February was revised downward as well. Last month's first revision showed a 3.0% decline, but now we learn its drop was 3.8%.
March also saw sizeable revisions in credits' components. Revolving credit was thought to have declined 4.5%; in fact, it was down 5.3%. Last month, we thought non-revolving credit grew by 3.9%. Instead, it shrunk by 1.2%.
That might provide some caution in assuming the accuracy in today's reported increase in credit for April. It says that revolving credit declined by 12.0%. That marks the 19th straight month that revolving credit has shrunk. It has fallen by $138 billion since September 2008.
Meanwhile, it reports a big jump in non-revolving credit -- a 7.1% increase. If correct, it would be the largest pop since January. This could be explained by the growth in mortgages due to more home sales, as Americans scurried to buy houses before the home buyer credit expired at month's end.
Here's how credit has changed since the recession began in December 2007: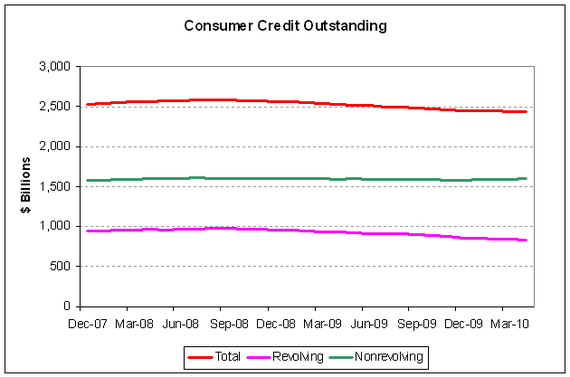 As for the holders of debt, securitized pools saw the only significant jump in April, with their balance rising by 2.6%. Could asset-backed securities be making a comeback? Savings institutions saw the biggest decline, down 1.7%. Every other category moved less than a percent.
Really, this month's data marks a continuation in the trend of consumer credit contraction. It's hard to tell whether this is a result of stricter underwriting requirements or consumers trying to pay down their debt -- or both. Even though we saw more non-revolving credit, that could change drastically in May. We already know that home sales will be much lower, since mortgage applications for new purchases plummeted 40% last month.
Note: All data above is seasonally adjusted.

Note 2: This post has been corrected through a few strike-throughs as I learned after-the-fact that real estate debt is not included in this statistic.