Commercial Mortgage Delinquencies Continued to Soar in Q1
Commercial real estate was the looming problem that everybody seemed to forget about in early 2010. New delinquency data from the first quarter shows that it's time for a reminder. Delinquencies soared in the early part of the year, according to the Mortgage Bankers Association. Loans contained in commercial mortgage-backed securities (CMBS) 30-or-more days delinquent reached a new high of 7.24% last quarter -- up substantially from 5.70% in the fourth quarter of 2009. This marks another sobering economic indicator.
Here's a chart based on some figures the MBA's report provides: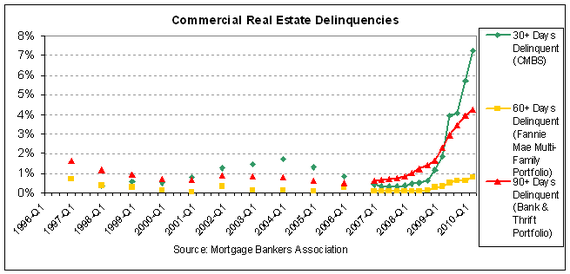 Let's start with the green line -- 30+ day delinquencies. As noted, those continue to rise -- a lot. In the past year, they've risen from 1.86% to 7.24%. That's incredible. Businesses are still clearly having big trouble paying their mortgages.
But how severe is the problem? The first stage of delinquency isn't good, but it isn't yet reason to panic. Unfortunately, the later stage delinquencies appear to be rising as well. The measure of 60+ day delinquencies shown (gold line) is that for Fannie Mae's portfolio of multi-family loans it holds or insures. It's up to 0.79%, which is also a big increase from its rate of 0.34% from a year ago. And remember, if Fannie owns a loan, then it should be relatively pristine. Yet, these delinquencies are rising too.
The data for 90+ day delinquencies shown (red line) consists of loans in the portfolios of banks and thrifts. Any loan that's more than 90 days delinquent is probably defaulted. The portion of defaulted commercial real estate loans in bank portfolios is alarmingly high at 4.24%. It's nearly double the 2.28% rate seen a year earlier.
What's going on here? The MBA says:
"Weakness in the economy has continued to weigh on commercial properties, which in turn weighs on the mortgages they back," said Jamie Woodwell, MBA's Vice President of Commercial Real Estate Research. "Economic growth, specifically in areas of jobs and consumer spending, will be key to stabilizing the commercial property and mortgage markets going forward."
Right, but didn't things pick up a little by the end of the first quarter? Remember all those great earnings announcements? Consumers also began to open their wallets again, as spending rebounded in March. Yet, commercial real estate continued to deteriorate. Clearly, the recovery will need to strengthen significantly to turn around the performance of these loans.