What the Future of Retirement Looks Like
A new Gallup poll shows more Americans expect to lean more heavily on Social Security for retirement ... and fewer are as optimistic about the equity they've built up on their homes: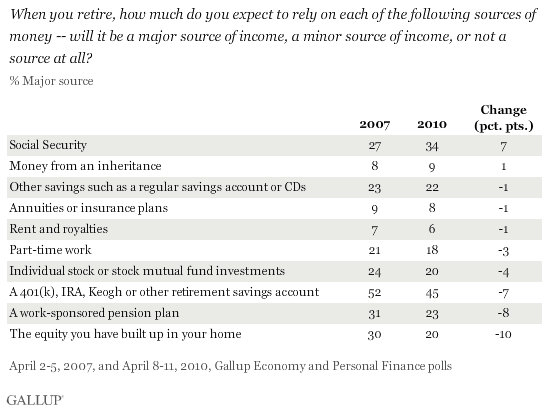 It's interesting to juxtapose this with the news that Americans' trust in government is at an all-time low. Is it strange that Americans are expecting to lean on government programs more even as their faith in government drops?
Actually, no. This NBER paper concluded just that: generations going through recessions tend to have more support for government redistribution even as they increasingly distrust public institutions. Quoting myself now: If this sounds schizophrenic, it's hardly different from the schizophrenia Americans already suffer when we blast the government for deficit spending even as we largely defend entitlements (40% of the budget), defense spending (20%), relief for the unemployed, and the historically low tax rates that make the deficit ... the deficit. What does it mean that we've become a country that expects a government we don't trust to provide growing benefits from taxes we don't want to pay?