Unemployment Duration Even More Alarming in April
Losing your job hurts, but not finding a new one for an extended period of time can be debilitating. Yet today's unemployment report for April shows a truly startling number of Americans unemployed for a very long time. The number who were jobless for more than 27 weeks or more increased by 169,000 in March to 6.7 million people, according to the Bureau of Labor Statistics. Let's put this into perspective.
As a percentage of the total unemployed Americans, a whopping 46% have been without a job for at least 27 weeks. That's the highest percentage since at least 1948. Here's a very scary chart showing just how bad long-term unemployment is from a historical perspective: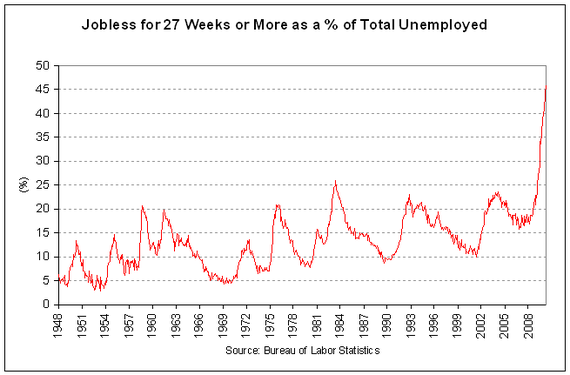 No other recession in history comes close to April's percentage. In the early 1980s, the national unemployment rate actually rose to 10.8% -- higher than the max of 10.1% this recession hit in October. Yet, during the early-80s recession the percentage of unemployed who remained jobless for at least 27 weeks topped off at just 26% -- far lower than the 46% in April.
The reason for this high duration is likely due to the structural unemployment caused by some industries undergoing significant changes during this recession. Construction and anything else real estate related, in particular, stand out. The unemployment in most recessions is largely cyclical in nature.
This long duration for the unemployed is a serious problem on many levels. It's obviously a huge problem for those jobless. As Derek noted earlier, it can hurt your job path, skills, and prospects to be unemployed for an extended period. Psychological harm can also result, as people may become more discouraged.
Long-term unemployment is also a policy problem. Unfortunately, BLS doesn't measure how many people have been unemployed for, say, 52 weeks or 104 weeks. Although Congress continues to extend benefits, at some point -- once unemployment begins to decline -- those extensions will be politically more difficult to make. Yet, it's clear that many Americans will remain unemployed for an extended period, as the percentage shown above continues to rise to alarming levels even as jobs begin to grow.