The Evolution of Facebook's Privacy Rules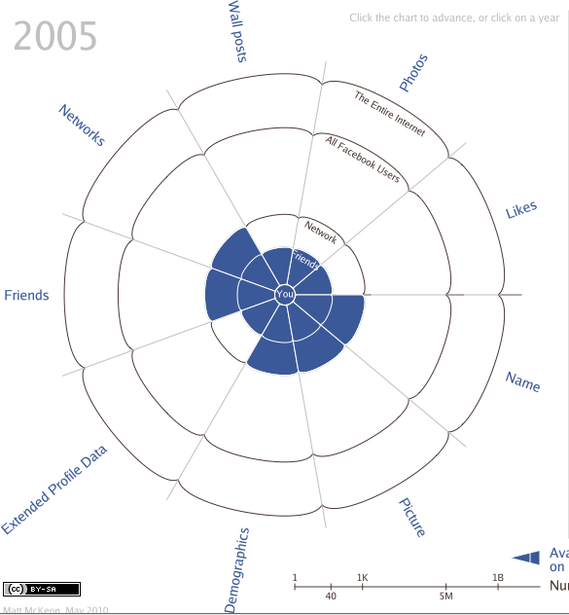 Facebook is doing exciting things. Its Open Graph protocol could create an kind of clearinghouse of articles, restaurants, and other online items we indicate that we "like" on plug-in widgets around the web. This would help publishers and companies customize their websites and make the Web a
more personal experience
.
Thing is, an Internet that knows us is an Internet that watches us. Facebook understands that it has invaluable information about its users on Facebook profiles. It also knows that users are jittery about making their personal information public. So the company has slowly changed its privacy rules over the last five years to open more user information to the public. It started with an clear ban on distributing private information. Then it allowed sharing over "networks" like New York City. Then it started to make some information public to the entire Internet. Now it's trying to turn the Internet into a playground of "likes." These developments aren't necessarily scary. But by racing ahead of the public's comfort level regarding public information, Facebook could jeopardize the more important implications of the Open Graph idea.
This is a telling visualization of Facebook's privacy rules, changing over time. To see the whole thing, click here. The visualization of Facebook's original privacy rules are in the image above. The dark blue represents the availability of your personal data, by default. Facebook's current policy looks like this: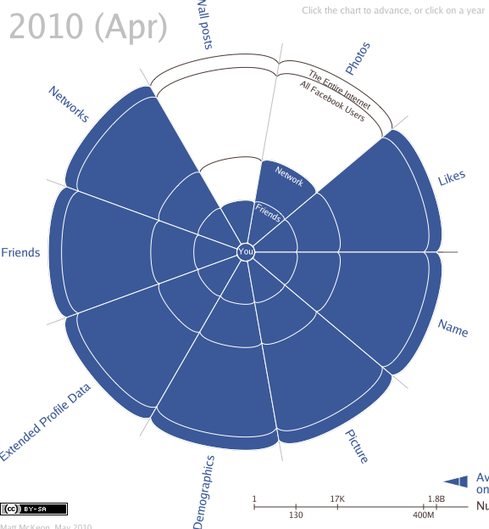 To be sure, this isn't Facebook's fault. It partly reflects an evolving attitude toward privacy on the Internet. "Public by default" is becoming the new normal. But the spreading dark blue also reflects a business decision that has drawn heavy fire from all corners of the Web. The way to avoid heavily-trafficked rants like 10 Reasons to Delete Your Facebook Account is to keep your business decisions closer to the public's attitude of privacy.