Spending Up in March at the Cost of Savings
Consumers loosened their grip on their wallets in March as personal consumption spending jumped by 0.6%, according to the Commerce Department. Since spending is a major driver for the U.S. economy, that's good news in context of the recovery. Consumers awakening from their slumber explained a large part of why GDP continued to grow last quarter, despite less government stimulus. Yet, today's report also reveals that personal incomes only increased 0.3% over the month. How did spending rise more than income? Savings fell by 8.5%.
In nominal terms, personal spending increased by $61 billion. Incomes increased by only $36 billion. That $25 billion gap is easily accounted for: saving declined by $28 billion.
Saving has now declined every month of 2010. From January through March, it's down 31%, or $137 billion. Meanwhile spending is up $153 billion, while incomes are only up $91 billion. This shows that throughout 2010, less saving has made up much of the increase in spending.
Is this reason for alarm? Yes and no. It's no secret that Americans don't save enough. As perpetual consumers their saving as a percentage of disposable incomes shrunk to just 1.4% in 2005 -- a time of economic prosperity. As the recession hit, that changed. Suddenly, people feared economic uncertainty and began keeping more of their income and making fewer frivolous purchases.
Consequently, savings peaked in 2009 at 5.4% of disposable income in the second quarter, the highest reading since 1998. Since the high, however, the rate has declined to just half that in March at 2.7%. But just how low is 2.7%? It's within the normal range that the U.S. has experienced for the past decade. The chart below shows savings as a portion of disposable income since 1980: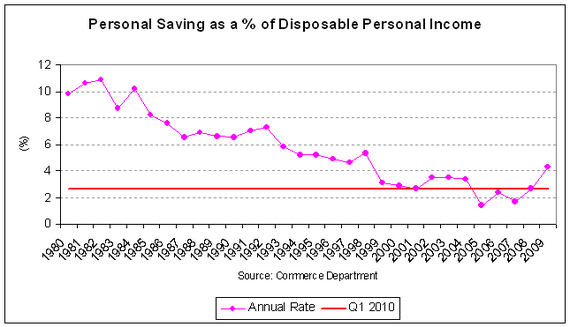 The red line is the 2.7% rate for Q1. You can see that this level looks right at home within the data points since 2000. Of course, what this chart also shows is that savings had declined considerably over the past 30 years. Clearly, Americans are reverting back to the kind of spending they did prior to the financial crisis -- instead of staying at the 5%+ level seen in the 1990s.
Some had hoped that the recession might have caused a permanent shift in Americans' attitudes about saving. Anyone with that view would surely lament today's news. It appears that the culture of spending has returned. Yet, anyone who wants the economy to recover more quickly might be happy: if there's any time when the economy needs spending it's during an economic recovery. As consumers stimulate the economy, growth should continue and unemployment will begin to decline.
(Nav Image Credit: nateOne/flickr)