Small Businesses Get a Little More Optimistic
Small businesses are the engine of the U.S. economy: they accounts for 70% of all job creation. So when they hurt, the nation feels their pain. And smaller firms have been pretty pessimistic lately. The National Federation of Small Business (NFSB) reports (.pdf) that while troubles persist, their optimism improved in April. These companies are beginning to feel the recovery, but slowly.
The NFSB's Index of Small Business Optimism rose to 90.6 after gaining 3.8 points in April. The 90-point mark is meaningful because during the 1980-82 recession the index only fell below 90 for only one quarter. This time around, it has been below 90 for seven straight quarters -- until now. Here's how the chart looks: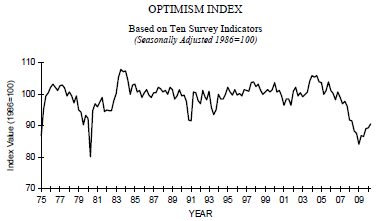 Of course, some of the reasons for this optimism include their better sales and profits. Both of those trends continued to improve. But have they helped hiring plans? As the following chart shows, not much: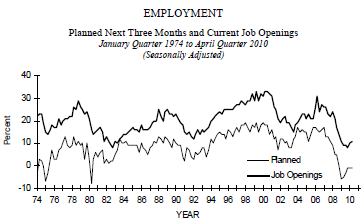 As you can see, planned hiring slightly leads job openings. Planned employment remaining flat isn't good news for future job openings. As mentioned, small business accounts for the vast majority of job growth, so until these companies begin hiring more aggressively, unemployment will remain stubbornly high.
So what's preventing these small businesses from bringing on new employees? A variety of factors are responsible. Here are the results of the NFSB's April survey of the most important problem facing these companies:
There are two charts because they don't put all eight lines on one graph. The biggest problem continues to be sales, but they've been improving since last year. Taxes also remain a significant problem. But after those two, the next biggest concern is regulation. Eyeing the chart, it looks like most of the businesses that no longer see sales as their biggest problem have shifted their major worry to regulation, as its line has grown the most recently. This continues to stress that Congress must be very careful not to place additional burdens on small business through their financial reform plans, as intensified regulation could further hinder hiring.
Although the charts above don't take credit explicitly into account, it also continues to be a big problem for small business. Although loan availability ticked up slightly last year, it remains quite low on a historically basis: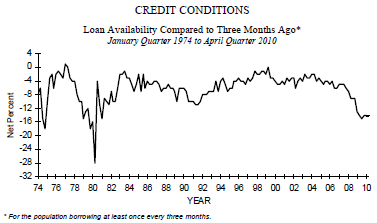 While this might not have a direct effect on hiring, it's likely keeping capital expenditures near their 35-year record low: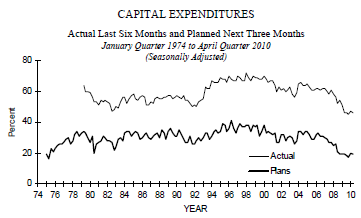 More business spending would also help to create more jobs by stimulating commerce.
(Nav Image Credit: rutlo/flickr)