Producer Price Index Virtually Flat in April
Inflation remains subdued, at least at the producer level. Although the consumer price level for April doesn't come out until tomorrow, Producer Price Index (PPI) indicates that inflation is still quite low, even slightly deflationary. PPI for finished goods changed by -0.1% last month compared to March, according to the Bureau of Labor Statistics. That was lower than March's PPI growth of 0.7%, and right around expectations of -0.2%. Today's news supports the assertion that inflation still isn't a problem.
Here's the PPI chart from BLS: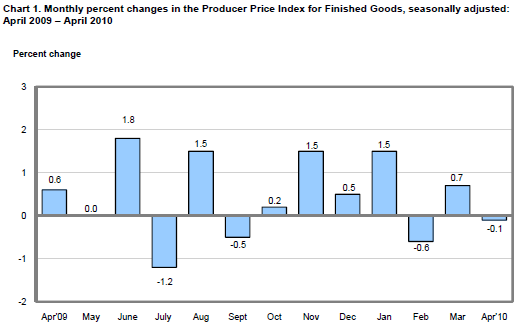 This statistic tends to jump around a little, but since February it's been vacillating right around zero.
The relatively volatile prices of food and energy are most of the reason for PPI's big swings. Stripping those out, you get so-called core PPI. Many economists view this measure as more important than the overall reading. It was also low in April, growing by 0.2% from March. As you might guess, food and energy brought the overall PPI negative for April, as their individual index levels changed -0.2% and -0.8%, respectively.
Core PPI has remained very stable over the past year. Here's its chart: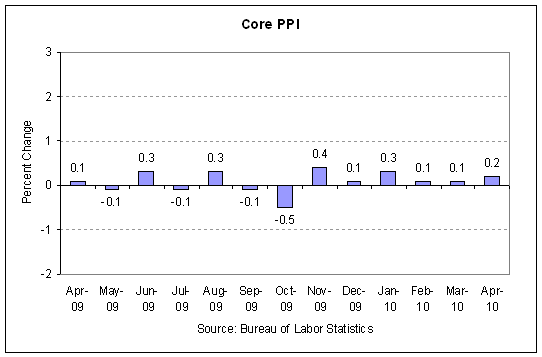 BLS also reports PPI for intermediate and crude goods, which changed by 0.8% and -1.2% versus March, respectively. These readings remain mostly in-line with the levels seen over the past year. So they don't indicate any reason to worry about inflation at this time.
Tomorrow we'll know more about overall inflation when CPI data is released, but PPI indicates that prices are still quite flat.
Note: All statistics above are seasonally adjusted.