Pending Home Sales up 5.3% in March
But that rate might disappoint the real estate industry.
More Americans signed contracts to buy homes in March, hoping to take advantage of the home buyer credit before it expired. Pending home sales increased by 5.3%, according to the National Association of Realtors. That might sound good, but this increase was lower than February's 8.3% rise. So more new contracts were signed in March, but the number grew more slowly than it did the month prior.
Pending home sales are an important indicator because they shed some light on the direction of home sales growth for the few months that follow. Thus, April home sales likely grew more slowly than in March, when existing home sales were up by 6.8% and new home sales grew by 27%.
Regionally, the rise in March was driven mostly by the South, which saw 12.7% more contracts signed than in February. The Midwest and West saw increases below 2%, while the Northeast actually saw a 2.2% decline in pending home sales. In March 2010 pending sales were up a hefty 21.1% nationally compared to the same month in 2009.
As in February, March's increase was mostly attributed to the federal home buyer credit, which expired at the end of April. NAR chief Economist Lawrence Yun notes:
Clearly the home buyer tax credit has helped stabilize the market. In the months immediately following the expiration of the tax credit, we expect measurably lower sales.
Today's data indicates that the buyer credit is having less of an impact on home sales this time around, however. Here's a chart showing the NAR pending sales index since December 2008: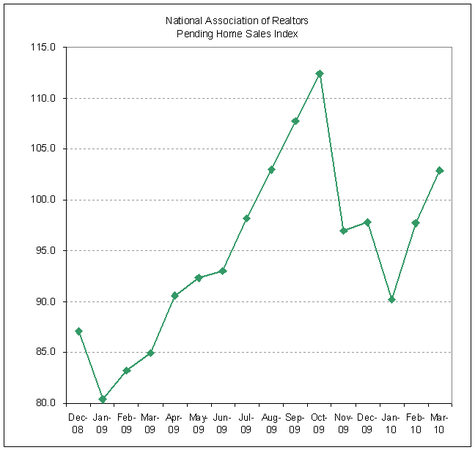 You can see the March 2010 data point is significantly lower than the peak in October 2009, a month prior to the credit's planned expiration last time around. Pending sales would have to rise by more than 9% in April to reach that level. To provide some perspective, here's how pending sales have grown or shrunk over the same time period as the previous chart: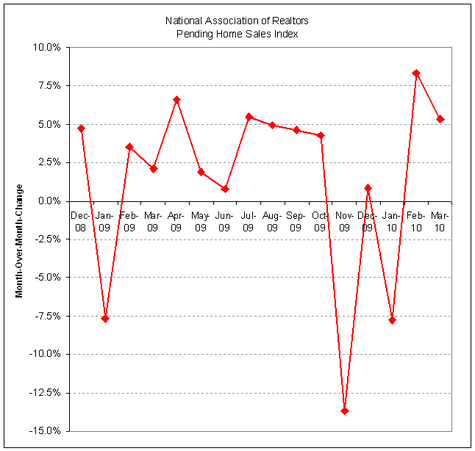 Growth would have to be stronger than any point over this period in April for the index to reach October's level. This has to be a disappointing prospect for the real estate industry, which likely hoped that the credit would drive more sales. And as Yun notes, in May pending home sales will likely plummet in a similar way to how they did in November 2009, shown above.
Note: All quantities above are seasonally adjusted.