NY Area Manufacturing Falls in May, But Remains Strong
Anyone who hoped manufacturing would be the key to the jobs recovery won't be pleased with today's news. The New York Federal Reserve's Empire State Index of manufacturing for May was 19.1. That's a significant decline in activity from April, when it stood at 31.9. But this isn't as bad as it looks: any measure above zero means additional gains in manufacturing for the New York area. Still, that's a pretty steep drop.
First, here's a chart from the Fed showing the index since 2003: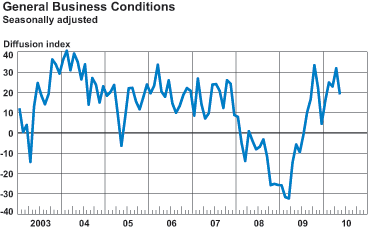 Even though this index only measures manufacturing in one region it's generally believed to serve as an early indicator for broader U.S. manufacturing. As you can see, during the recession the manufacturing industry got battered. But it also recovered far more steeply than it fell. It has remained above zero for 10 consecutive months.
There's no doubt that more manufacturing is helping the labor market. The report's index for employees rose for the fifth straight month, to the highest mark since 2004. But May's big drop comes as a disappointment. Economists expected it to barely fall, to 30.
At this point, the index is not that far from its average since 2001 of 10.6. As it nears that mark, job growth in manufacturing will slow to normal levels, instead of the steep job growth that could help make a more significant dent in unemployment, which remains near 10%. If the index's downward trend continues, then manufacturing isn't likely the answer to the labor market problems.