New Home Sales Up 14.8% in April
Americans bought a lot of new homes in April, as they rushed to take advantage of the government tax credit. The sales of new homes increased 14.8% to an annualized rate of 504,000, according to the Census Bureau. This easily beats economists' expectations of 425,000. April's rise follows an upwardly-revised increase of 29.9% in March. Since February, new home sales are up an incredible 49.1%. This sounds wonderful, but once the influence of the buyer credit wears off, a brutal hangover in May will likely follow.
As impressive as the rise from February sounds, it needs to be taken in context. That month marked the fewest new homes sold since the government began keeping track in 1963. Even April's huge rise to 504,000 looks pretty pathetic compared to the housing boom numbers: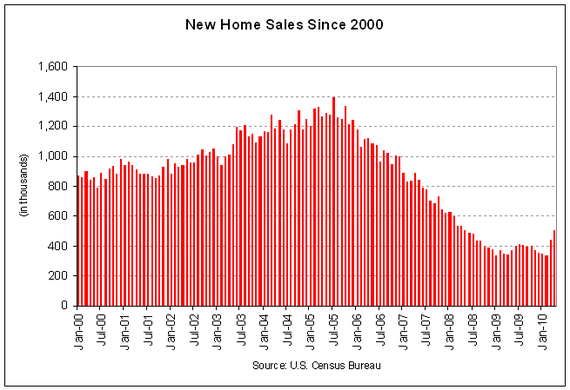 As you can see, April's new home sales are the highest in almost two years -- since May 2008. The number also represents a 47.8% increase over April 2009, a year earlier. So if this trend continues, then that would be good news for construction jobs.
Unfortunately, it won't. We also learned today that mortgage applications for new purchases declined for the third week straight, by 3.3%. In May, without the government credit, mortgage applications for purchases are down a 36.2%. Here's how that looks: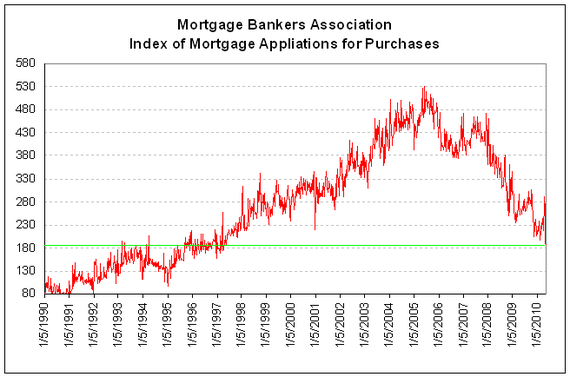 The red line is the Mortgage Bankers Association index, and the bright green line shows its level during the week ending May 21st. Mortgage applications for purchases are now at a level not seen since April 1997.
What might this mean for new home sales? If they drop by the same proportion as mortgage purchase applications have so far in May, then they would hit a new all time low of 321,000 sales this month. And this time around, the low doesn't have a government credit to bail it out in the months that follow like in February.
Of course, May isn't over, so if the trend continues, then this would be an optimistic prediction. Moreover, it's plausible that buyers will turn more to existing homes than new ones without the credit. They'll seek bigger bargains on foreclosures and short sales since the government incentive is gone.
Ultimately, that would be good for housing market stability. Buyers need to focus on soaking up most of the massive existing housing inventory before building new homes. And that inventory is rising. As far as jobs are concerned, construction will have to mostly rely on renovations for those existing home sales.
Note: All data above is seasonally adjusted.