Leading Economic Indicators Decline for First Time in a Year
Is the recovery running out of steam? You might think so, considering that the Conference Board's Leading Economic Indicators Index fell in April. Last month it decreased for the first time in more than a year. The drop was slight -- just 0.1%, but it contrasts with the 0.2% increase expected by economists. What happened?
The index is made up of ten indicators that can help to predict how the U.S. business cycle is trending. They are aggregated at certain weights depending on their relevance to the economy. Here's a chart from the Conference Board showing some history: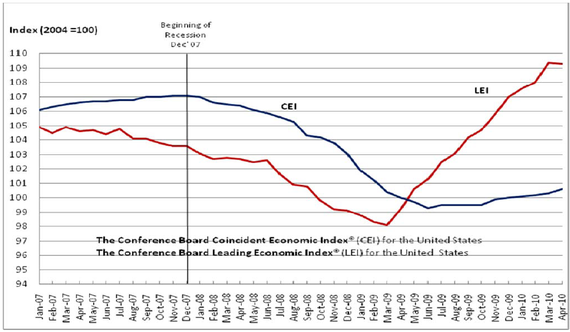 The red line, titled LEI, is the Leading Economic Indicator Index. That's where there was a decline for April. The blue line is the Coincident Economic Indicator Index, which shows how the economy is doing currently. It continued to rise, as expected.
According to the report, the decline in building permits and supplier deliveries (vendor performance) played a huge part in index's April small fall. Other components that had a negative effect included real money supply, average weekly initial unemployment claims, consumer expectations, and manufacturers' new orders for consumer goods. The positive indicators included the interest rate spread, stock prices, average weekly manufacturing hours, and manufacturers' new orders for nondefense capital goods.
This is not particularly good news. The index had been growing significantly for the past year. Even if it doesn't continue to trend negative, hitting a plateau would imply a weak recovery going forward. Of course April's decline was small and could just be a blip. If the index continues to move downward, however, then there is definitely reason to worry.