Housing Starts Rise as New Permits Fall
Home builders had a good month in April. Construction of new homes improved again last month, as housing starts rose by 5.8% to an annualized rate of 672,000 from March's revised level of 635,000, according to the Census Bureau (.pdf). That beat expectations of 650,000 and also marked a huge 40.9% rise compared to April 2009.
While the new construction data sounds great, new permits declined last month. They fell by 11.5% to an annualized rate of 606,000. There were still 15.9% additional new permits than in April 2009, however. Fewer new permits might indicate that new construction is slowing back down, with the home buyer credit now expired.
First, let's look at some charts to give these numbers some perspective. Here's one showing housing starts: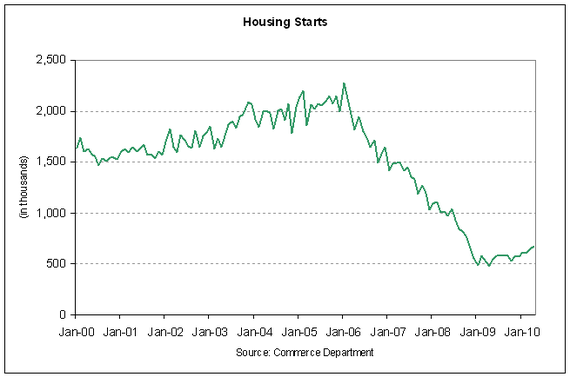 As you can see, there's been a fairly steady rise for the past year. But this chart also shows just how far new home construction has fallen from its peak in 2006. Permits tell a similar story: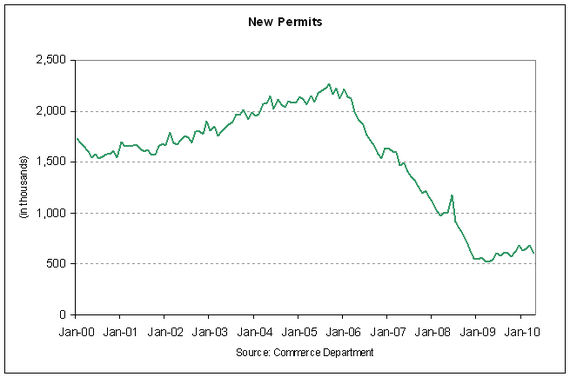 The fairly steep fall in April for permits marks a big difference compared to another rise for starts.
It's plausible that the end of the home buyer credit has something to do with this disparity. It applied to any contracts signed through April 30th. As a result, much of the new construction that broke ground might have continued to benefit from the credit, if some of those homes were already spoken for. New permits occur at an earlier stage in home building, however. Consequently, fewer of those contracts might have been signed by April 30th, so the credit didn't benefit them as much. Builders are also likely just anticipating a decline in demand for new homes now that the credit has expired. The drop in permits likely foreshadows what we'll see in home building and sales numbers in May and beyond, without the government credit.
This report should be considered along with yesterday's news that homebuilders are more optimistic. The National Association of Home Builders said its confidence index rose to its highest level since August 2007. The index reading indicates that builders are still generally negative about the market, however. The report also says, although the market picked up with the home buyer credit in place, the builders expect demand to decline now that it has expired.
Fewer new homes being built isn't necessarily a bad thing. While it's obviously not great for the construction industry, it's arguably better for the housing market. There's still a big inventory of existing homes for sale. Moreover, there are still very high numbers of foreclosures hitting the market. Buyers should work on drawing down the current inventory before building new houses.
The big problem with building fewer homes, of course, is fewer construction jobs. It has been one of the worst industries hit due to the housing collapse-induced recession. As home building slows, the hope would be that more construction workers might find work renovating newly purchased existing homes or foreclosures. But as the charts above show, even additional renovation isn't likely to put the number of construction jobs anywhere near what was seen in 2006.
Note: All numbers above are seasonally adjusted.
(Nav Image Credit: Concrete Forms/flickr)