Foreclosures Declined 9% in April
Fewer Americans lost their homes in April, though the numbers are still alarmingly high at 333,837 foreclosed properties nationwide, according to foreclosure data specialist RealtyTrac. This number was 9% lower than the record high hit in March. So April's decline, while relatively good news, doesn't quite get foreclosures back down to pre-March levels.
Here's a chart showing foreclosure activity since March 2008: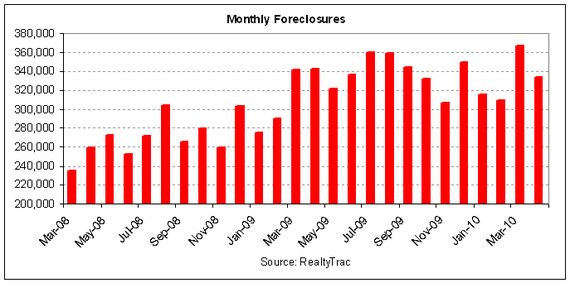 The most notable change was April's decline compared to a year earlier. This is hugely significant, as it's the first year-over-year drop in foreclosures since RealtyTrac began keeping track. The following chart shows its significance: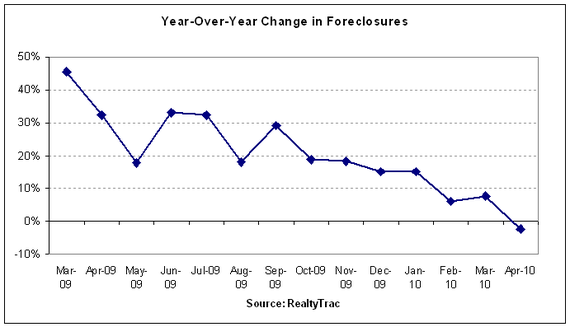 A 2% drop might not seem like much, but it indicates progress not yet seen since the housing bubble burst. RealtyTrac CEO James Saccacio notes this in the April report and highlights another significant characteristic of the month's results:
Secondly, bank repossessions, or REOs, hit a record monthly high for the report even while default notices dropped substantially on a monthly and annual basis. We expect a similar pattern to continue for most of this year, with the overall numbers staying at a high level and ripples of activity hitting the various stages of the foreclosure process as lenders systematically work through the backlog of distressed properties.
The trend of higher REOs was noted last month and indicates that banks have finally started more aggressively liquidating their shadow foreclosure inventory. With default notices declining, this could indicate that the U.S. housing market has hit, or is very near, the bottom.
On an individual state basis, the usual suspects are still doing quite poorly: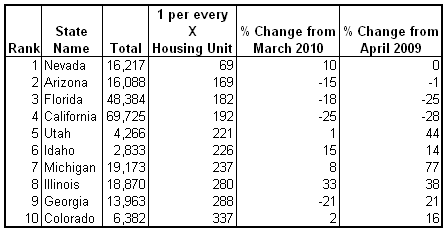 Nevada went from bad to worse, with its tally of one foreclosure for ever 69 properties increasing in April from one in every 76 in March. It had 10% more foreclosures last month. Month-to-month performance for the rest of the top-10 was mixed. The next three on the list -- Arizona, Florida, and California -- all had fewer foreclosures than in March. Georgia was the only other state in the top-10 to see a month-over-month decline. While some of the states changed rankings within this worst-state list, the top-10 remained the same.
(Nav Image Credit: respres/flickr)