Existing Home Sales Rise in April, but Inventory Soars
Americans practically fell over themselves to take advantage of the home buyer credit before its expiration in April. Existing home sales rose to the annualized level of 5.77 million. That's 7.6% higher than in March, and the largest increase since November -- the last consumers were rushing to take advantage of the credit before it was set to expire. Yet, sales didn't rise enough to decrease the housing inventory. On the contrary, inventory rose by 11.5%. Despite the increase in sales for April, the housing market remains fragile.
So first, the good news. Here's a chart showing the change in home sales: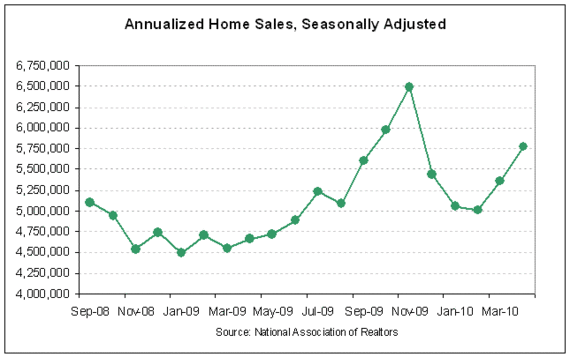 April 2010's existing sales were 22.8% higher than a year earlier. You can see the steep rise created by the home buyer credit this spring. Indeed, the increase in sales due to the mortgage credit was quite predictable. Check out how the rate of existing home sales changed compared to one and two months prior to April compared to November: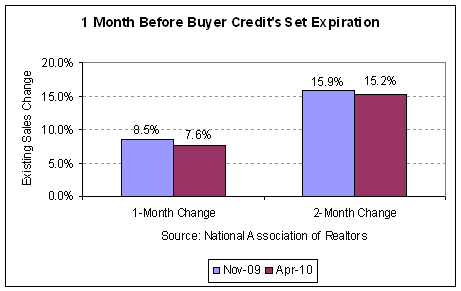 You can see how close those rates are in both cases. However, the big difference is that last fall the starting point was higher than it was in early 2010. As a result, fewer existing home sales were recorded this time around.
Home prices also increased in April. The median price was up by 2.1% to $173,100 from $169,600 in March. April's median was the highest price we've seen since September, and 4.0% higher than in April 2009.
So that all sounds great -- home sales and prices are rising. If increasing sales were sustainable, then that would be good for the housing market. But the data for new mortgage applications for purchases in May indicates quite the opposite: they fell by a drastic 34% in May.
To make matters worse, housing inventory actually rose in April, despite the additional sales. And it increased a lot: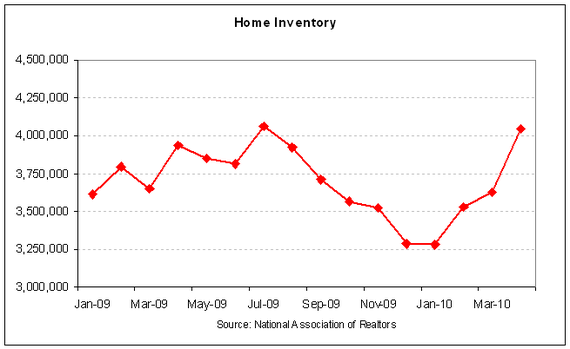 As you can see, it's risen steeply since January -- up 23.4%. This might look bad, but if sales plummet in May and the months that follow, as predicted by mortgage applications, then inventory will rise even further. At this point, it's at 4.04 million homes, the highest we've seen since July 2009. But a month or two of significant gain could easily put it above record the 4.58 million level hit in July 2008. As foreclosures continue to occur at an elevated rate, a new high for inventory this summer wouldn't be surprising.
Additional home inventory, along with lackluster buyer demand with the credit gone, should make it hard for prices to continue to rise in the short-term. We can expect some sobering news over the next few months about the housing market recovery.
Note: All data above is seasonally adjusted.