Consumer Prices Fell Slightly in April
Instead of inflation, April's Consumer Price Index (CPI) indicates slight deflation. Prices fell by 0.1% compared to March, according to the Bureau of Labor Statistics. April's change met expectations and was the first decline in prices since March 2009. As long as prices are flat to falling, it's hard to take short-term inflation concerns seriously.
The following chart emphasizes just how low inflation has been over the past year:

April's decline was led by energy prices, which were down 1.4% for the month. Food prices rose slightly, by 0.2%. This resulted in ever-important core inflation -- the measure that excludes food and energy -- remaining unchanged for the month. That was slightly below the 0.1% rise economists predicted. Here's another chart that smooths core CPI with a trailing 3-month average: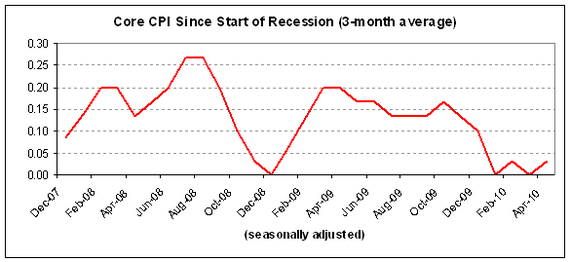 Remember, the vertical axis above only maxes out at 0.3%, which stresses just how low core inflation has been since the recession began. Considering this chart, in conjunction with the earlier one, it looks like full and core CPI are both experiencing a downward price trend since last June.
Combining today's CPI news and yesterday's report indicating producer prices were also slightly deflationary, it's crystal clear that inflation is currently under control. In fact, there may be reason to worry more about deflation, if the trend noted above continues through summer.
Although we will also learn May's inflation reading before the next Federal Reserve Open Market Committee meeting in late June, April's price data indicates there's little chance its economists will feel any new urgency to soak up monetary supply sooner than planned. Unemployment -- which rose to 9.9% in April -- remains the bigger immediate threat to the U.S. economy.
Note: All data above is seasonally adjusted.
(Nav Image Credit: [sic]/flickr)